The Lone Beader
is a self-taught bead embroidery artist from Massachusetts. She loves to create extremely dimensional relief art by stitching glass seed beads to felt.
Many of her beaded paintings are inspired by pop culture, dogs, classic cars, and rock 'n' roll music.


Her stunning use of color and texture bring already-gorgeous ideas to life with seed beads.
The interesting marriage of embroidery and sculpture makes
Inspirational Beading had a chance to discuss this motivated artwork with The Lone Beader herself. Here's what she had to say:
The Lone Beader: My sister and I used to make beaded necklaces and bracelets quite often when we were kids. But, I didn't re-discover beading until many years later when I happened to browse through a bead shop in Boston. Next thing I knew, I was buying beads & beading magazines every chance I got. I began to teach myself bead weaving techniques until one day when I fell in love with bead embroidery.
IB: What is your favorite style or color of seed bead?
TLB: I like to use seed beads for most of my work, and the smaller size the better! I use mostly size 15 and size 11 seed beads, but I also love size 13 charlottes.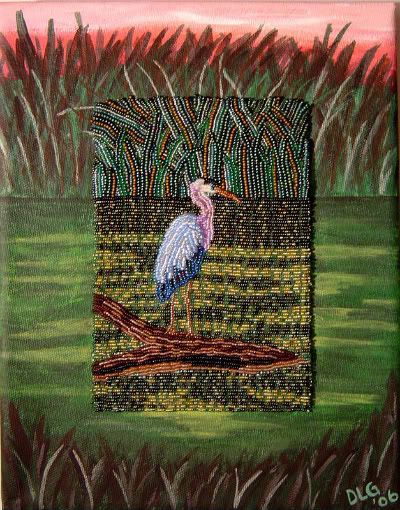 IB: What gives you the most inspiration?
TLB: Lately, I am inspired by classic cars and all different types of vehicles, as well as popular culture, dogs, and nature.
IB: What is your favorite resource for ideas or techniques?

TLB: I tend to look to other artists' work (outside of my medium) for ideas, but for beading techniques, I sometimes refer to my personal library of beading books. My new favorite inspirational beading book is Masters: Beadweaving published by Lark Books.
IB: Who do you hope to inspire with your work?
The Lone Beader: I hope to inspire fellow beaders to try something they never thought they could accomplish. I also hope to encourage anyone who is unfamiliar with the possibilities of beads to stop and look at this medium from a different perspective.
Then, I ask "What should I bead next?"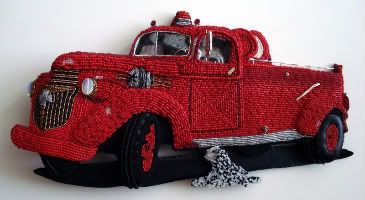 You can learn more about
The Lone Beader
and her work by checking in with her on
Facebook
. To purchase beaded artwork and accessories, visit her unique shop on
Etsy
. You can also request custom designs such as pet portraits.