Recently I was in desperate need of a button for a bracelet closure. With only one Swarovski button in my stash (that didn't match my project), I decided to make my own. Using cube beads, I made a little square stitch rectangle that I could stitch to the beadwork just like a button.


The Inspiration:

Since then, I've been thinking about square stitch more and more. It's not a technique I use much, but the easy way the cubes came together was kind of refreshing. So I tried to think of some ways that I could incorporate square stitch into my usual projects.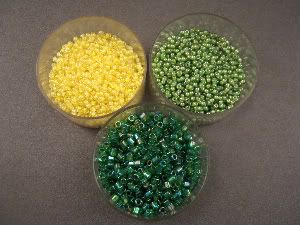 The Beads:
I started with some new
8o
Hex
seed beads
, which I thought would work well with square stitch, plus give a little extra sparkle. The transparent leaf green AB shade has a nice summery look - a sort of pick-me-up for the unbearably hot days to come.
I matched the Hexes up with
11o
seed beads in white lined peridot and yellow lined crystal, from Artbeads.com. The special shine that the lined beads have goes really well with the AB hexes. I'm really taken with the white lined variety in particular.
The Beadwork:
I started by making a simple square of hex seed beads to use as a pendant. I decided to suspend it from a V-shaped St. Petersburg chain, and added a little matching fringe. Although I'm really pleased with the way the homemade pendant turned out, I find that the necklace straps really overpower it. Next time, I think I'll choose a more subtle stitch for the chain, and let the square pendant stand out.