Almost every beader has experienced a moment of bead-shopping weakness. It's that time when you saw a bead or component that was so beautiful, you just had to have it - even if you didn't have a clue what you were going to do with it.
Sometimes we get stuck with these spur-of-the-moment purchases for a long time. It could be because they are too precious to use, or because they require us to wander far outside of our comfort zone. We see these beads every time we look over our stash of supplies, and wonder if they'll ever become what they were meant to be.
The Inspiration:
While on a bead shopping spree awhile back, I scooped up several strands of yummy dyed shell strands in different shapes and colors. Most of the selections I made have proved very useful, and I have several projects to show for it.
Unfortunately, one of the strands that I selected did not seem meant for bead weaving. The side-drilled shell rectangles that I picked up have been baffling me for some time. Whenever I tried picturing them in a design, all I could see was a simple stringing project, even though I knew that there just had to be a way to weave with them.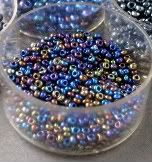 The Beads:
The elusive shells are a lovely shade of dark pink, and the bar shape is very tempting, despite it's apparent uselessness for my designs. When I finally decided to make something with them, or bust, I had to figure out what to combine them with.
I eventually decided on some of my all time favorite seed beads - Czech rainbow iris 11/o's. They're a good match for the dusty shade of pink, and I have plenty of them so I could design just about anything without fear of running out.
The Beadwork:
Right angle weave saved the day again, and after some trial and error, I finally came up with a way to showcase the shell rectangles with a technique I liked.
My first idea was to have each shell sitting within adjacent loops of seed beads, but the shape of the beadwork didn't look quite right. I was getting mushy tear-drops instead of pretty loops. So I started over, using
RAW
squares, with each side having the same number of beads. This didn't look very good either, since there was far too much negative space, and the seed beads had too much room to move about.
I used up the entire strand of shells, and made an extra long necklace. Now this hasty purchase is behind me instead of haunting me. The funny thing is, I like this necklace so much, that I want to buy more side-drilled rectangles and make another!
Copyright 2010
Inspirational Beading
and
The Sage's Cupboard