The Inspiration:
November 16-22 is
Bullying Awareness Week
, a time when communities, families and other groups can come together to discuss what kinds of actions they can take to help protect children and adults from abusive behavior from their peers. Although we live in a world where being original or different is more like the norm, there are still people who attempt to over power those around them with words and even violence. To help prevent these situations from happening, organizations can support the cause of Bullying Awareness, and educate teachers, employers and other leaders in all aspects of the bullying issue. From causes to solutions, the more we know, the safer and more supportive our environments can be.

Bullying Awareness from Allposters.com
The unofficial color for Bullying Awareness is pink. Groups that are spreading the word about this important cause wear pink, and share the story of a pair of
bullies that were stopped
in their tracks by some incredibly thoughtful and brave teens.
Like many people, pink isn't a big color in my wardrobe. But even though I don't own any pink shirts, doesn't mean that I can't show my support, too. With a great piece of pink jewelry, I can stand up against bullies everywhere, and help get people talking about this important issue.
The Beads:
This homemade mixture of beads consists of assorted pink acrylics, and a careful selection of seed beads. Most of the mix is made from different shades of pink and red, with a splash or two of white, blue, purple and magenta. The over all affect is a diverse group of beads that come together to make one big, pink collage.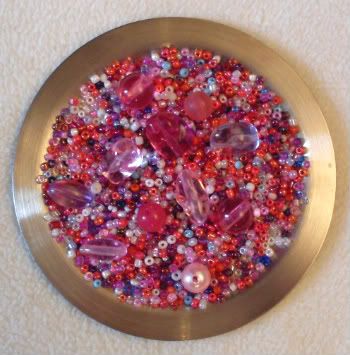 The Beadwork:

This necklace was fun and easy to make. Although I don't own a bead spinner, I still love stringing random beads once in awhile. It takes the pressure off as a designer - I just let the beads tell the story on their own. I did make sure that the accent beads where more or less evenly spaced, counting out how many I would need per strand and trying to create a nice flow of shapes and sizes. I hope that beaders everywhere will pull out their best pink pieces to wear next week, and get their peers talking about what we can do to stop bullying!