The Inspiration:
Now that December is almost here, it's time that all beaders turned to their gift projects and Christmas decorations. I try to make something for many of my friends and family, and most of my beading time is spent designing pieces that will make great gifts. I prefer to give jewelry that is wearable year-round, but sometimes it's nice to have a beautiful and festive Christmas accessory or two.
Last year I designed a multi-strand bracelet with leaf fringe and different sizes of beads in natural colors. The effect was nice, but I wanted to try something new this year. Since it's the holiday season, I decided to create a Christmas tree bracelet, complete with white and blue lights.
The Beads:
I wanted continuity with the beads, so I chose to use lined varieties for the foliage as well as the lights, rather than a combination of matte and clear. The palette for my bracelet includes: copper lined green, foil lined blue mix, foil lined clear, and foil lined brown mix. Black will also be used as the base for the 'lights'. Overall, I think that the feel of a crisp and classic Christmas tree can be seen.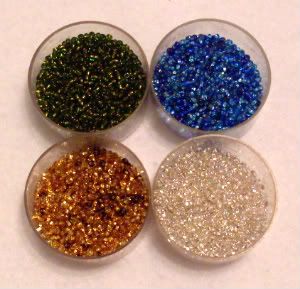 The Beadwork:
Without any ado, here is the completed bracelet. It can be worn flat or twisted, and the ten strands of thick leaf fringe certainly evoke a feeling of pine needles and flashing lights. Because so many embellishments were added this time around, I've had to adjust the length from my previous design. The finished bracelet measures a tiny 6 1/2 inches, and is a nice snug fit. It would work just as well as a slinky 8 inch bangle as well, with the strands free to move about and sparkle.
The clasps are attached to small panels of even-count peyote stitch, which is the most complex part of the design. Although manipulating the strands of beads between clasps can be akward at times - especially when the thread is at it's maximum length - the bracelet is very easy to make. It's a great beginner friendly project that I would recommend for any new beader. And the results are beautiful, too!
Your Turn:
Complete instructions for this project are available on
Variety Beading: Christmas Projects
. Try out a new Christmas design, or create on of your own, and post your Christmas beading story on the
Beading Challenge Forum
.