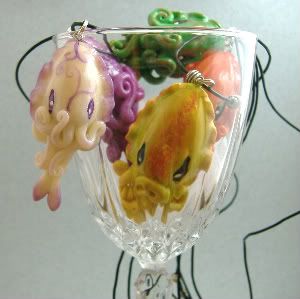 From Western Maine, Sheryl Westleigh creates a stunning array of polymer clay sculpture and jewelry. Most notably, her collection of unique cuttlefish jewelry captures a real essence of the sea.
These marine inspirations are just the tip of the iceberg in a collection that includes woodland creatures, fantasy figures and mythical beasts.
Surrounded by a real life menagerie of over 20 pets, Sheryl (aka Noadi) creates an amazing variety of inspired artwork, from pendants and earrings, to sketches and
Perma-Pets
.
Inspirational Beading had a chat with this talented designer about her inspirations and innovations. Here's what Sheryl had to say:
Inspirational Beading: How did you first discover polymer clay?

Sheryl Westleigh: When I was in college I was wandering through a local art supply store and spotted some Sculpey 3 on sale, and I thought it would be fun to make some little miniatures for the Dungeons and Dragons campaign I was in. I never ended up making them but instead sculpted little heads and critters.

IB: What is your favorite style or technique?

SW: I started with polymer clay as a sculptor and that's still what I enjoy most. That's why even my jewelry is primarily sculpted and things like faux materials or caning techniques are secondary to the pieces, if they are included at all.

IB: Where do you find the most inspiration?

SW: Definitely in nature. I think anyone who looks at my work probably immediately notices my obsession with cephalopods (cuttlefish, squid, octopus, etc). I also enjoy a lot of mythology and folklore and that often appears in my larger sculptures.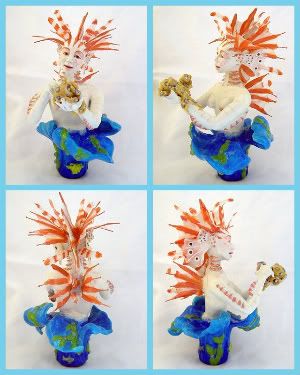 IB: What is your favorite resource for ideas or techniques?

SW:
Glass Attic
is an amazing online encyclopedia of polymer clay techniques and it's my first stop if I'm looking up a technique.
Katherine Dewey
is an amazing sculptor with a pair of really good books, she also has a forum where she answers questions about working with polymer clay. For really amazing and often creepy sculptures the
Shiflett Brothers
are a team of sculptors also with a great forum.
IB: Who do you hope to inspire with your work?
SW: You know I haven't really thought about that before. I don't think of myself generally as someone who does inspire others. [I'm more of] a teacher and I try hard to help other artists and crafters as much as I can. My mom is a teacher and I think that has rubbed off on me, which is one reason I recently started up a new blog about what I've learned running a handmade business.


To learn more about Noadi's Art, you can visit her gallery and shop at Noadi.net, or check in with her Adventures in Sculpting blog. In addition to photos and updates on her latest works, she also offers tips and tutorials on sculpture, design and handmade business practices.

To purchase your very own Noadi originals, and learn about how to request custom orders, visit her shop on Etsy.