The Inspiration:
While designing a beaded coin purse for my niece, my first goal was to use pink flowers. Her favorite color is pink, so anything beaded must include that prettiest of colors. After deciding on an embroidered approach, I started having visions of pink and purple flowers surrounded by rays of yellow sunlight.
The picture that formed in my mind was an eclectic garden full of bright, vibrant colors. I immediately thought of vintage cartoons, 70's album covers, and classic Sesame Street shorts. With little more than a lust for color, I set out to recreate my vision.
The Beads:
I first pulled out three shades of pink from my seed bead stash. Bubble Gum AB, Opaque Hot Pink, and Galvanized Peach. Then I added a dash of Foil-lined Purple Mix and Matte Violet. For the stems I chose Matte Green, with Matte Yellow and Orange for the sunlight.
As I worked on the purse, I found myself pulling even more beads out. I wanted to add new rows of color and larger beads for texture. Some of my selections were Metallic Gold, and Opaque Yellows and Greens. The assortment of bead cups covered every inch of my workspace.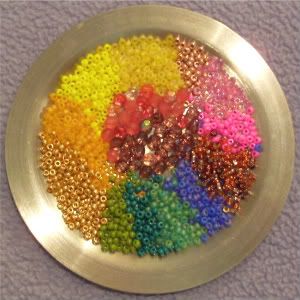 The Beadwork:
In the end, the panel turned out just as I had hoped - better, even. Each flower began with a 6o seed bead, with rounds of 10o beads moving outward. After each flower was given a stem and leaves, I set to work on creating the radiating sun beams. My goal was to include as many shades as possible, while keeping matte yellow as the main color.
After adding some green, green grass and a picot edging, the purse was complete. I was almost sorry to wrap it up! Perhaps I'll have to make another for myself.