Last Christmas, I attempted my very first embroidered bezels. I had always admired the perfectly jacketed cabochons I had seen in magazines, but until then, I hadn't been brave enough to attempt one.
The green, black and silver bracelet turned out quite nice, and helped inspire more confidence in my peyote stitch abilities. For me, it's proof that practice really does make (almost) perfect. What seems impossible one day can be easy another day, with a little practice.
The Inspiration:
With a fresh selection of 11/o and 15/o seed beads in my stash, I decided to take the plunge and try a plain peyote stitch bezel. With no fabric to steady my work against, I was a little nervous about how it might turn out, but you never know until you try.
The Beads:
I wanted to experiment with inexpensive cabochons first, so I grabbed some pretty glass nuggets from the home decor section of my local craft store. After much searching and sorting, I was able to select a few that were nearly perfect circles.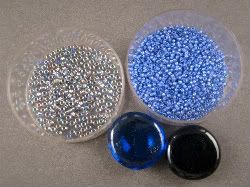 To match the blue-black cabs, I picked some dichroic-lined cornflower blue 11/o's, and purple lined sapphire 15/o's.
The Beadwork:
The first beaded cabochon worked out so nicely, that I just kept going made 2 more. Once they were completed, I connected each one with a small strip of right angle weave, and added a bail.
Thanks to this very successful experiment, I find myself wandering around, looking at everything and thinking to myself "Can I bezel that?!"


Copyright 2009 Inspirational Beading