Many beading books and resources tell us that it's a good idea to create swatches of seed beads, to help with color selection. If you have a small piece of beadwork representing every color and finish in your stash, it's easy to select just the right beads for every palette or project.
It's a great idea, but if you've already got a large selection of beads on hand, it can seem like a pretty daunting task. Who wants to spend all that time making little square stitch samples when there's jewelry to be made?
Being able to mix and match colors easily is a great way to experiment with color possibilities though. To solve part of the dilemma for myself, I dropped by my neighborhood paint store and picked up a selection of paint swatches in all the basic colors.
After cutting the cards into separate colored slips, it's easy to create new and interesting palettes based on themes, moods or even memories. After playing with different colors, it's just as easy to select beads that match, and make a stunning or intriguing piece of beadwork.
Here are three fun examples:
"Mermaid"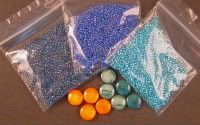 "Happy"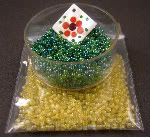 "Carnival Ride"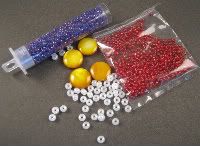 Try it yourself, and have a little fun with color!
Copyright 2009
Inspirational Beading