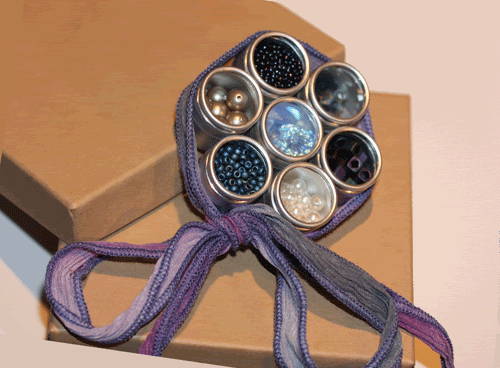 The Big Reveal is finally here, and all of the fabulous
USE THE MUSE II
entries are now on display. The wide range of beadwork styles and imaginative pieces is amazing - a treasure trove of inspiration and delight!
It was such a thrill to spot my entry, "Forever June" in the N-Z gallery, among all of the amazing artwork submitted by my fellow beaders.
Scarlett Lanson
deserves a big round of applause for all of her hard work, and for bringing us all together around the Muse.
The Inspiration:
As soon as I had ordered my kit for the USE THE MUSE contest, I set to work on possible designs, eagerly awaiting the mystery component. Because it was already revealed that the Muse was a LillyPilly pendant, I was able to come up with some metal-free ideas.
I tried to think of ways to incorporate many of the other kit materials, including the silk ribbon, but in the end my most satisfying idea was to somehow stitch the pendant onto flat beadwork. I surveyed my mental inventory of techniques, sketched out some designs, and waited for the kit to arrive and complete the inspiration.
The Beads:
I wanted to use as many of the kit's beads as possible, without overwhelming the gorgeous shell pendant, or looking too "busy". I was able to incorporate all of the wonderful Swarovski crystals and pearls, and the 15/o seed beads. To this I added a few selections from my own stash, including some delicious abalone-lined crystal seed beads from
Artbeads.com
.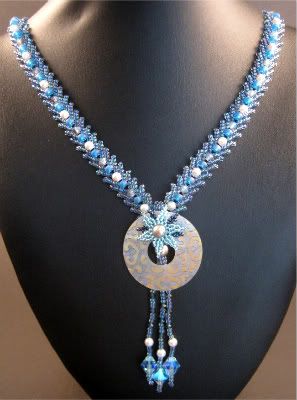 The Beadwork:
With the idea of stitching the pendant directly to my beadwork, I decided to build a necklace using
St. Petersburg chain
. The V-shaped version of the stitch creates a small platform at the center of the necklace, perfect for embellishing.
Rather than simply pin the pendant down with a bead or two, I decided to enhance the floral motif with a brick-stitch beaded flower. Another flower at the back of the necklace makes up one half of the clasp. For a little whimsy, I added some fringe at the V, with a platinum pearl peeking through the Muse.
I named the necklace "Forever June", because although the pendant and flowers have a summery feel, the Swarovski crystals and St. Petersburg chain give the necklace an icy winter vibe. I like the idea that it's something cool to wear in summer, and warm to wear in winter.
Copyright 2009
Inspirational Beading