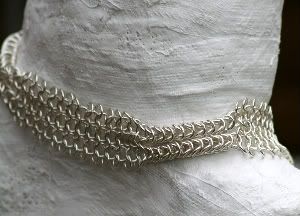 Seed beaders are so fortunate to have so many millions of possible bead and technique combinations available for designing amazing jewelry. But the realm of beading and jewelry design holds so much more than just thread and beads. One of the most versatile art jewelry techniques is chainmaille. By combining tiny rings with other materials such as glass, leather and stone, one can create interesting and beautiful works of art.
Samantha Hutchinson-Cloud of Silver Lined Designs uses her passion for chainmaille to create a wide variety of necklaces and bracelets to appeal to the medieval princess in all of us. Hailing from Austin, Texas, she channels her natural creativity into amazing jewelry.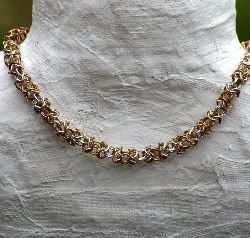 Inspirational Beading:
How did you first discover chainmaille?
Samantha:
I first discovered chainmaille a while ago. In fact, I'm not sure I even remember a specific incident. I have always been fascinated by metal, circles, and jewelry, and one of my friends was really into doing chainmaille. It all just clicked! I also enjoy other forms of jewelry making, such as leather work, wire work, and even simple bead work. But chainmaille is really my passion.
Inspirational Beading:
What are your favorite sources for inspiration?
Samantha:
I am inspired by many things. Nature is full of patterns, and finding these patterns to incorporate into my work is very important. When I think of nature inspirations though, I guess I mainly think of trees. Trees have so many shapes, and they all come together to form a beautiful, natural piece of art. It is these shapes and what they can do when they are combined that really inspires me. Trees incorporate shapes from circles, ovals, triangles, squares, etc, and they all fit together perfectly. In my pieces, I try to emulate those combinations in order to create a complicated and visually interesting jewelry piece.
I am also inspired by other people's artwork. I love looking at other chainmaille pieces and learning how to create the patterns in other works of art. The more you know, the better your own art gets!
Inspirational Beading:
What's your favorite material to combine with chainmaille?
Samantha:
I love working with leather, and chainmaille and leather create a particularly bad-ass combination. I also enjoy beads, stone and glass. Stones are always interesting, and I find that natural elements such as stones and leather help ground the piece and make it more earthy. I am not as much into really modern all metal pieces. Plus, since nature is such a big part of my inspiration, I find it important to add an element of nature to my pieces.
Inspirational Beading:
Is jewelry design your main passion?
Samantha:
Definitely. My goal in life is actually to own a combination vintage\jewelry shop where I can create my pieces and sell beautiful vintage garments to go with them!
Whenever I am sad or bored, chainmaille always cheers me up. When I'm happy, it makes me happier, and when I'm feeling crazy it calms me down. I am planning on majoring in art in college, and I'm hoping that taking art and sculpture classes will improve my work and add new skills that I can use to create all different kinds of jewelry. I would really love to learn how to do glass work!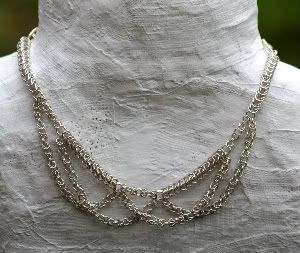 I also love photography. I have a wonderful camera, and macro photography is my favorite! I just need a good macro lens.
Inspirational Beading:
Who do you hope to inspire with your work?
Samantha:
I hope to inspire the people who wear my work. My goal is to make the people who purchase my pieces happy. I want them to feel like they have bought something they can show off and enjoy wearing! I would love for people to see that chainmaille doesn't just have to be huge and clunky like vests and armor, it can be delicate and beautiful. There is always an occasion for chainmaille, you just have to find the right piece. I want people to realize that something as simple as a small metal ring can be made into something intricate and exciting!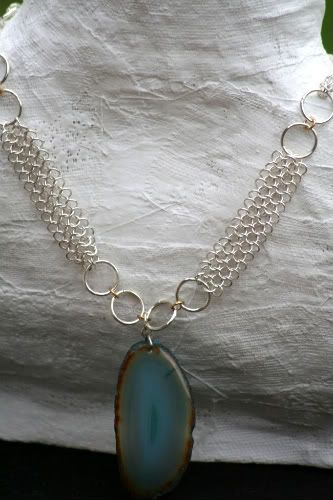 Samantha will be majoring in art and Chinese at Hendrix College in 2009. You can see her designs in her Etsy shop,
SilverLinedDesigns
, or catch up with her on
Facebook
.
Copyright 2009
Inspirational Beading
,
SilverLinedDesigns