Tide Pool
" necklace, I still had quite a few caramel and topaz seed beads leftover. I wanted to put the mixture to good use, and started looking through my bead stash to find something interesting to pair them up with.
The Inspiration:
I started by combining my original sandy mixture with another custom brown mix that I had made a few years ago. It included different shades ranging from an almost white beige to dark opaque brown and black. Once I had stirred them together, the urge to create another sandy project took over.
The Beads:
I have a seemingly endless supply of mother of pearl chips, so they were my first selection for accent beads. I wanted a splash of color, so I also grabbed some deep yellow shell coins. Once these sunny beads were added to the palette, I also threw in some smaller orange shells for a little extra spice. Frosted yellow 11/o seed beads rounded out the palette, drawing the all of the colors together.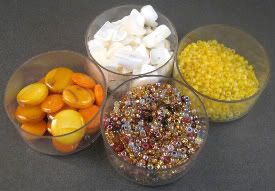 The Beadwork:
I wanted to do something simple with the seed beads, to really show off the different colors in the sandy mixture, so I started with some flat
herringbone weave
. Typically, flat beadwork isn't really suitable for a necklace, because it doesn't drape well. To correct this, I connected two strips of herringbone with strands of beads. The soft, flexible bead strands allow for a curve in the middle of the necklace, so the herringbone pieces can lay flat across the neck and shoulders.
I omitted the opaque seed beads, and incorporated the frosted yellow seed beads gradually, then created a semi-random pattern of shells in the middle. Each side of the necklace has a roughly equal amount of accent beads. The necklace is finished with a loop and toggle clasp.
Copyright 2009 Inspirational Beading