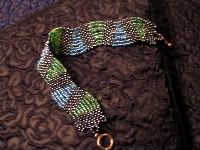 When I first started experimenting with beading techniques and combinations of stitches, I surprised myself by coming up with what I would eventually call the "Athena Bracelet". By combining peyote stitch with single strands of beads in alternating lengths, a wavy pattern emerges.
The first two bracelets I made reminded me of motifs on Greek pottery - hence the name - and I made several more with different colors and patterns. Although the beadwork has a soft, fluid look, the short rows of beads are actually quite sturdy, and the entire bracelet band keeps its shape while being worn.
The Inspiration:
Since I've had the sea on my mind, I decided it was time to bring out the wavy Athena Bracelet again, and see if I could improve upon it. I certainly wanted to add beaded clasps instead of silver, and perhaps simplify the beadwork to make it come together much quicker - and with less thread.
The Beads:
I started with some of my favorite seed beads - abalone lined crystal 11/0's. I matched them up with some light blue Ceylon 11/0's and blue and white pinch bicones. For just a little more contrast, I chose some white lined peridot seed beads that have a nice sea-green color.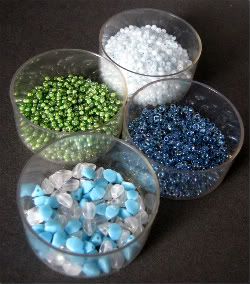 The Beadwork:
This time around I tried using square stitch for the beaded panels, instead of peyote. The straight rows of beads are much easier to work with, since they can be stitched straight through to add the loose bead strands. The toggle and loop clasp is also much easier to use than a metallic closure, and blends in with the entire bracelet for a nice clean look.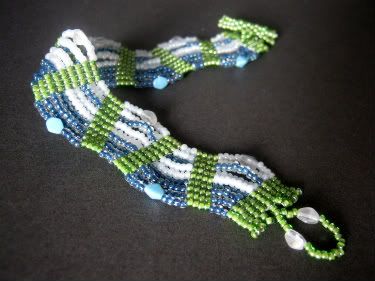 Copyright 2009 Inspirational Beading