The Inspiration:
After creating a
scary forest necklace
inspired by Disney's
Snow White
, I wanted to pay a little tribute to the evil queen. Although terrifying and cruel, she was the second fairest in the land, and surely had a wardrobe to suite. I wanted to make something that would be fitting for a queen, but with a touch of the macabre.
The Beads:
I started with some dark transparent root beer 8/0 seed beads, which have a nice color that could blend between reds, blacks and other 'evil' colors. To these I added opaque red 11/0 seed beads, shiny black 11/0's, and a charming lampwork skull bead by
Suzoom
. I really love the ornate looking face on the skull - it looks like something a witch would use to cast a spell or tell your fortune.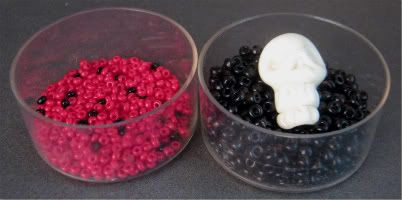 The Beadwork:
At first I thought it would look nice to have a dark colored spiral rope, with the skull at the centre as a pendant. In my mind's eye, the necklace looked great, but as I stitched, I realized that it wouldn't quite do the skull bead justice. I went back to the drawing board, and came up with an entirely new design.
First I added some golden colored beads, which I hoped would make the beadwork look more regal. Once those were included in the palette, I decided to replace the opaque seed beads with transparent ones, so that they would blend together with the foil-lined beads, and the shiny black ones.
Instead of a spiral rope, I used the golden beads and the 8/0's to make a V-shaped St. Petersburg chain. Once finished, I added scalloped loops in black and red, and attached the skull pendant with a seed bead fob at the end. It turned out so much better than my original idea, that I have no regrets about the spiral rope now sitting in my to-do drawer.
Copyright 2009
Inspirational Beading