As the leaves begin to turn, and the weather brings a shiver or two, many of us begin thinking about things that are dark, spooky and spine tingling. Even when ghosts are not on our minds black, and deep shades like red and auburn, are usually at the top of our fashion must have lists.
The creative team at
LondonsGate
- Seiko and Eric - have been hard at work creating gorgeous accessories that would fit any fall wardrobe. Whether you're into classic and chic, or wild and alternative, their Victorian and Steampunk inspired designs are pleasing not only as delightful baubles, but as works of art, too.
Inspirational Beading:
How did you first discover the art of jewelry making?
Seiko:
It actually started when I was a kid. I would take my cheap junkie jewelry and my mom's old broken stuff and piece things together to make something I could actually wear. Or if I lost an earring I'd turn the one side I did have left into a pendant or something.

Inspirational Beading:
Where do you find the most inspiration?
Seiko:
I'm inspired by all sorts of things and all sorts of people- just random stuff I'll see during my day to day activities. Someone may be out on the street and will have something on that will catch my eye. Or I could be watching a show on haunted history and see something on one of the re-enactors, or maybe even a piece of furniture, and I'll think "hmmm, that looks pretty cool", and then modify it to suit my own taste.
Inspirational Beading:
Do you have a favorite material to work with?
Seiko:
I like working with silver plated items; chains, settings, stampings, charms. The variety is endless. I like it way it looks and it fits my budget, very affordable.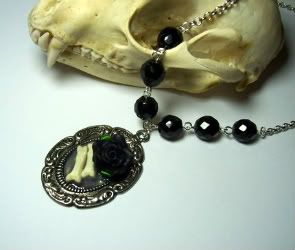 Inspirational Beading:
If you could master any new technique, what would it be?
Seiko:
Ooo, I'd love love love to be able to do glass work.
Dale Chihuly
's work is so unbelievably amazing but I'm even envious of local glass artists. There's just something so magical about watching artists work with glass.
Inspirational Beading:
Who do you hope to inspire with your work?

Seiko:
I hope to inspire anyone who may think that there are "rules" to creating. I'd like for them to see that when it comes to jewelry making or art/creating in any from, there are no rules or boundaries. They should do what they feel and what they like. It's okay to mix it up and take influences from completely different areas, or combine things in a way that are totally nontraditional, or use things in an unconventional way. I'd like people to see that when it comes to art they should never limit themselves and never hold back.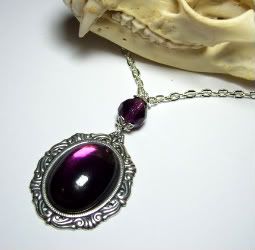 When not indulging in a passion for jewelry design, Seiko spends her time caring for animals, and working in a doggie daycare facility. Eric is a website designer by day, and is currently working on his Oracle Database certification. You can find out more about this design team, and view their work on their website
LondonsGate
, or check in with their blog
LondonsGate Steampunk Jewelry
.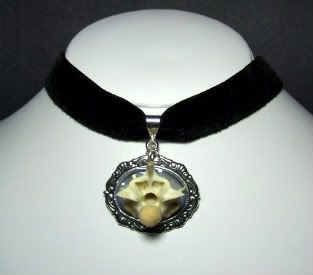 Copyright 2009 Inspirational Beading, LondonsGate