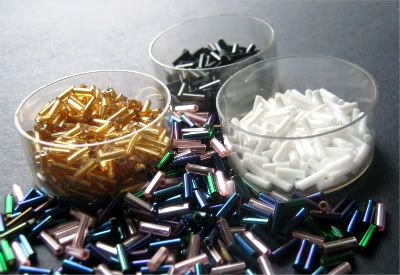 One of the most interesting members of the seed bead family is the bugle bead. They're unique and beautiful, and have a tendency to sit, unused, in our bead stash. Because bugles beads tend to have sharp edges, they can easily cut through most beading threads, causing a beautiful design to collapse. Using high quality bugles and a sturdy thread like Fireline does help, and allows them to take on a wonderful variety of beadwork shapes.
I find that bugles are really best when the thread moves straight through, and doesn't cross over the edges. Some of the best stitches and techniques for these little tubes are netting, fringe, and embroidery, especially when seed beads are added as bumpers on either side. Adding bugles to a design can add an extra layer of sparkle. Their length also creates a unique texture that cannot be achieved with regular seed beads of equal measure.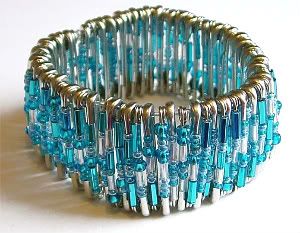 Safety Pin Bracelet with Bugles
by Sugarberry Delights
Due to their size and shape, bugles are a bit more prone to breakage than other seed beads. Often a hank or vial will contain at least a few pieces with rough edges or burrs. These can sometimes be removed or polished away with an emery board, restoring the bugles' straight edges.
Bugles come in a variety of sizes and finishes. The most common bugle is the 6mm length, but they also come in 9, 12 and cute little 3 mm sizes. Some manufacturers also create twisted bugles, with a textured surface.
If you have an lot of bugles in your collection and want to use them up, a simple
multi-strand necklace
is an easy way to go. For supple texture, place a seed bead between each bugle, which will smooth out the strands. Some other great projects with bugle safe stitching include:
Bugle Clusters Bracelet
by Silvana Terry and Bead & Button
Cute Couple Cuffs
by Shelley Nybakke and Beading Daily
If you're up to the challenge, these excellent tutorials pair bugle beads with a variety of stitches:
Elegant Netted Bracelet
by Deborah Meyer and Beading Daily
Twisted Bugle Earrings
by Beaded Jewelry
Beaded Cupcakes
by MythrilAngel
Structural Cube Bracelet
by Lynno Soto and Bead & Button
And for anyone who loves to play with polymer clay, a
Mobius Bead
can help put some of those larger bugles to good use!
Have fun!
Copyright 2010
Inspirational Beading