Photo Credit: takau99
This month, the theme for the
Etsy BeadWeavers
challenge is "Secret Garden". This topic was chosen by Ileana of Enchanted Beads, who encouraged participants to create their own real or imaginary garden. It's a great theme for summer, with absolutely endless possibilities. There are so many ways to interpret the word garden, that choosing just one would be a challenge in itself.
The Inspiration:
Although I adore nature, I've never been a green thumb, and landscaping sort of baffles me. So there would be no realistic gardens in my piece. I started thinking about more magical, fantastic gardens. It occurred to me that the most secret of gardens would be one that humans could never reach.
I had already started seeing some possible shapes and designs in my mind's eye, and I was most drawn to one with flat, six petal flowers. I thought it would be fun to turn all of my oval dyed shells into flower petals, so then an aquatic theme started to emerge. If the city of
Atlantis
had had a garden, what would it look like now, at the bottom of the sea?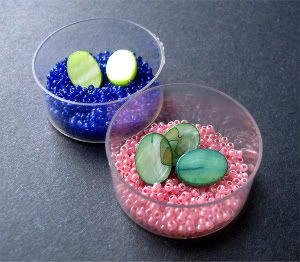 The Beads:
Using the green shells for petals meant that I would have to be careful about choosing the rest of the palette. I wanted to be certain that the flowers would look as such. I finally decided on salmon pink, which is not only a very flowery color, but also reminds me of anemones and starfish, which one might find in an underwater garden.
For the background, I chose transparent cobalt - an excellent deep sea blue. I also selected some pink cat's eyes, and 15/o seed beads to match the green and chartreuse shell coins.
The Beadwork:
To make the flowers I had imagined take shape, I used wide triangle weave stitches, with each wedge supporting a petal and a bit of the pink center. To fill in the spaces between the shell flowers, I made a few beaded flowers with matching pink centers and green petals.
Voting for the Etsy BeadWeavers July challenge opens today. Stop by the
EBW Team blog
to see all of the amazing entries, and vote for your favorite! The challenge closes on July 15th.
Copyright 2010
Inspirational Beading
and The Sage's Cupboard