I have always been a sucker for
color lined beads
, even before I discovered how much fun it is to weave with them. Many years ago, I discovered that the mixed lots of vintage beads at my local craft store occasionally contained batches of 4mm plastics cubes lined with blue, purple and pink, and I simply had to have them all.
I purchased every package of beads I could get my hands on, and spent countless hours sifting and sorting through them until I had a pretty nice collection of these color lined cubes. They were by far some of my favorite finds ever.
I wasn't quite so attached to them that I refused to use them in art projects. I even used a bunch of them to wire wrap a decorative fruit basket, and then gave it away as a gift. It was hard to part with them, but I had so many that it seemed like I would never run out.
And sure enough, I decided that I no longer wanted to bead with plastics, making a statement about the origins of the materials that we use in our everyday lives. So now I have all of these pretty little beads and they're not being put to good use. It's time that they found a new owner!
How to Enter:
If you would like to get your hands on these gorgeous cubes, just answer the following question:
What is your all time favorite seed bead shape?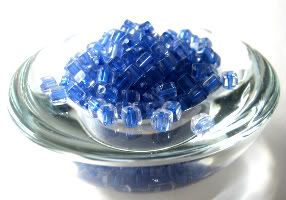 Leave a comment on this post with your answer, along with your email address (beadlover AT yourmail.com) and you'll be entered in the draw! One lucky winner will receive all of the pink, purple and blue beads shown - about 80 grams in all.
The winner will be announced on Friday, October 15th. Good luck!
Copyright 2010
Inspirational Beading