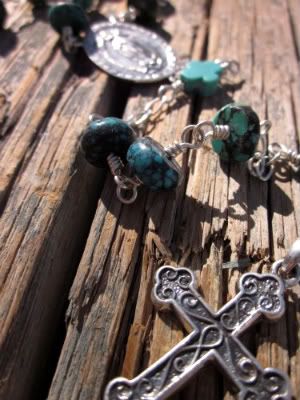 Just as there are a million and one ways to weave beads together with thread, the design possibilities for wirework jewelry are endless. From simple charms and dangles, to elegantly wrapped pendants, wirework jewelry has instant appeal for bead lovers.
The sister design team behind
123 Little Indians
creates wonderful jewelry, drawing on their Blackfoot heritage and combining it with modern materials and techniques. Today, Lindsey of
123 Little Indians
shares some insight into this fantastic medium.
Inspirational Beading:
What is your all time favorite beading or jewelry technique?
Lindsey:
My favorite jewelry technique is using wire. I started out making charm bracelets, and now I make complete necklaces and rosaries using wrapped loops. I am learning everyday how to improve my craftsmanship. Wire is such an interesting medium to work and experiment with, I am fascinated with some of the things I see on
Artfire
.
Inspirational Beading:
How do you first learn to use this technique?
Lindsey
I learned to use this technique by just picking up a beading magazine and using their "basics" step by step instructions on how to make a wrapped loop. I didn't even have round nose pliers yet - needless to say the loop wasn't too pretty! Ever since then I have been experimenting with wire.
Inspirational Beading:
Of all the creations you've made with this technique, which one is your favorite?
Lindsey:
My all sterling silver and turquoise wrapped loop rosary is by far my favorite thing I have ever made. It is more than 11 feet of sterling silver wire, with real turquoise.
Inspirational Beading:
Can you share any tips for getting started with this method?
Lindsey:
I can only say you get better with practice. I am most definitely not an expert at any of the art I make. I only focus on doing the best I can while I am making that one creation. I am inspired by the world around me and the beautiful creations I see artisans making everyday.
Inspirational Beading:
Do you have a favorite material to use it with?
Lindsey:
Turquoise and sterling silver are my favorite materials. I have lived in the Southwest almost my entire life, turquoise and silver are everywhere here.
Inspirational Beading:
If someone had to choose to learn only one technique, would you recommend this one?
Lindsey:
Yes I would recommend learning how to use wire because you are not just limited to one style. Wire can be rustic, fancy, fun, beautiful and funky. You can mix wire with gemstones, crystals, pearls or just focus on the wire itself.
Inspirational Beading:
In your opinion, what is the best place for beginners to learn this technique?
Lindsey:
Read, read, read! I have so many beading/wire books and magazines like
Bead Style
and
Bejeweled
by
Claire Aristides
. Even if you are not a step by step learner, you can just see the pictures of things that these amazing artists are making and get inspired by them. Your
local bead shop
usually has classes they offer as well.
Copyright 2010
Inspirational Beading
and
123 Little Indians
Subscribe to Inspirational Beading