One of the most simple and versatile jewelry making techniques is the wrapped loop - a great way to connect and showcase beads of all kinds. Today my guest, Chrisy Bossie of
earthegy
, shares some insight into this essential method.
Inspirational Beading:
What is your all time favorite beading or jewelry technique?
Chrisy:
Of all the things I love to do, wire wrapping small gems and rondelles into the clasp of a necklace chain would have to be my favorite. There's no reason the back of a necklace shouldn't be as beautiful as the front. It's like having a romantic secret…it may be hidden under your hair, or behind your collar, but you know it's there, making the nape of your neck just a bit more beautiful.
Inspirational Beading:
How do you first learn to use this technique?
Chrisy:
I'd actually never thought of doing it until I bought a sterling chain for myself from another artist's store for myself for Christmas. When it arrived there were crystals wrapped into the clasp, and it was a completely unexpected pleasure.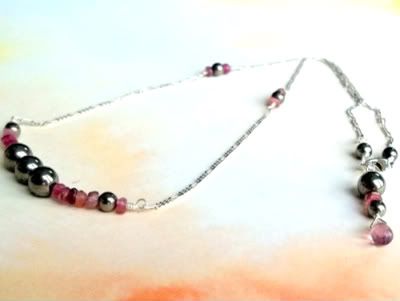 Inspirational Beading:
Of all the creations you've made with this technique, which one is your favorite?
Chrisy:
My favorites vary by day, but this is current one, inspired by Valentine's Day and spring love:
Pink Tourmaline and Pyrite Choker
.
Inspirational Beading:
Can you share any tips for getting started with this method?
Chrisy:
All it takes is learning to wire wrap loops and making sure the gems you incorporate are small enough to fit through a pendant loop. I definitely recommend starting with a high gauge wire in a base metal before moving onto sterling so you can perfect your technique. Once you move on to sterling, it's less difficult, because sterling is easier to work with. I also use dead soft sterling wire—it bends into beautiful shapes and hardens as you work with it.
Inspirational Beading:
Do you have a favorite material to use it with?
Chrisy:
I prefer faceted gemstones in a rondelle shape because they catch the light and sparkle, but I don't discriminate. I've used jade, pearls, pyrite…whatever colors and shapes fit into the overall design.
Inspirational Beading:
If someone had to choose to learn only one technique, would you recommend this one?
Chrisy:
I would definitely recommend learning how to make wire wrapped loops. Wire wrapping allows for a stronger piece and it's a versatile technique that can be used in a lot of ways in a design. I also think it's 100 times more attractive than a simple jump ring, which can easily be torn apart.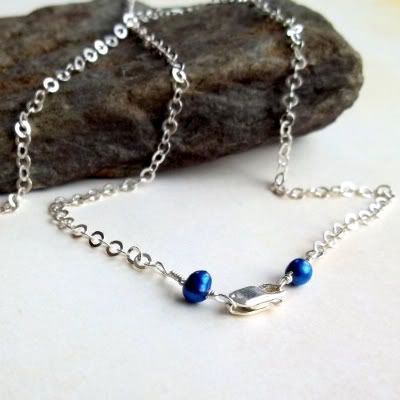 Inspirational Beading:
In your opinion, what is the best place for beginners to learn this technique?
Chrisy:
The
wrapped loop tutorial
on the Artbeads website was the easiest place for me…after that, it's trial and error and a lot of practice to keep your wire wrapping uniform and straight.
You can see more unique designs like these at earthegy on ArtFire and Facebook.
Copyright 2011
Inspirational Beading
and
earthegy
Subscribe
to Inspirational Beading