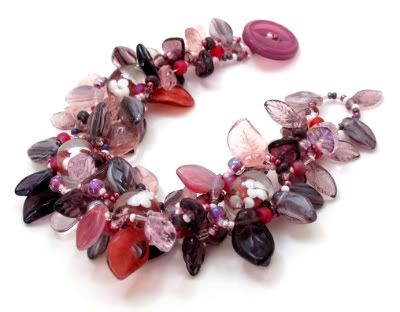 Sometimes you can tell, just by looking at an artist's designs, that they absolutely love beads. This is the impression one gets while browsing through the creations at
randomcreative
. The artist, Rose, shares a little insight into a great way to use them.
Inspirational Beading:
What is your all time favorite beading or jewelry technique?
Rose:
It's a tie between right angle weave and peyote stitch. I'll be discussing
right angle weave
in this interview.
Inspirational Beading:
Where/how do you first learn to use this technique?
Rose:
I learned how to bead weave from beading books and tons of pictures online.
Inspirational Beading:
Of all the creations you've made with this technique, which one is your favorite?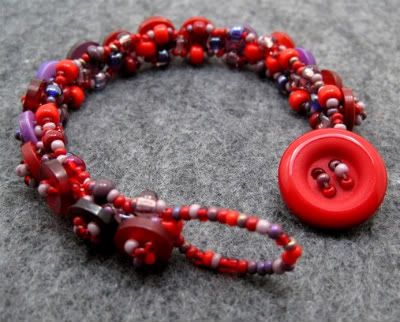 Rose:
It is so hard to pick a favorite, but I really love my
leafy series
. I also love my
button embellished series
, which has a right angle base.
Inspirational Beading:
Can you share any tips for getting started with this method?
Rose:
The best advice that I can give is to start simple and then build on your technique. I made a lot of bracelets in this right angle weave design when I first started bead weaving:
Petite Garden
.
Inspirational Beading:
Do you have a favorite material to use it with?
Rose:
I love all sorts of Czech glass. I use a fair number of seed beads in almost all of my beadweaving pieces. For right angle work, I also use pressed Czech glass, lamp work, and gem stone chips fairly often. Of course many of pieces include plastic or metal buttons as well.
Inspirational Beading:
If someone had to choose to learn only one technique, would you recommend this one?
Rose:
Most beadweaving techniques are very versatile. Right angle weave is no exception. Once you have the basics of the stitch down, there is no end to the possibilities for designs that you can create.
Inspirational Beading:
In your opinion, what is the best place for beginners to learn this technique?
Rose:
The two books that I used most frequently when I started beadweaving were
Getting Started with Seed Beads
by Dustin Wedekind and
Mastering Beadwork
by Carol Huber Cypher.
Tammy Powley
has a lot of great right angle weave techniques, too. I have a compilation book of hers from Barnes and Noble that isn't available on online, but she has several books that are available on Amazon.
You can see more of these fun and bead-tastic designs on The Beadings and Buttons of Randomcreative or follow randomcreative on Facebook.
Copyright 2011
Inspirational Beading
and
randomcreative
Subscribe
to Inspirational Beading
Share Your Designs