How many times a day does the average beader think about creating their own unique beads to work with? For the self-taught beadweaver and lampworker behind
Three Fates Design
, it's already a dream come true.
Designer Victoria, of Southern Wisconsin, works as a research assistant and has a degree in biology from the University of Wisconsin. Outside the lab, she uses her love of beads to create interesting, one of a kind pieces. With a preference for beaded cuffs and a new found love of lampworking, this inspired beader shows us that we can work in multiple mediums for maximum creativity.
Inspirational Beading: How did you first discover beading?
Victoria: I was in high school. I lived in a house full of artists, everyone had some sort of artsy thing, except me. And trust me, I tried everything from painting, to sewing, to sculpting. My parents were always real supportive in helping me find my creative voice. Then one day my mom bought me a few beads and some string, and well, I was hooked.


IB: Beadweaving or bead making? Do you have a preference?
Victoria: This is such a hard question. I don't think I really have a preference; I enjoy both of them so much. I love beadweaving a whole bunch, and have been doing it for so long, that I would never give it up.
But lampworking is exciting and just as addictive as beadweaving. Maybe in a few years when I've worked with the glass a little bit more, I'll have a different take. Who knows?

IB: Where do you find the most inspiration?
Victoria: I seem to find inspiration everywhere. I really love nature; there are always beautiful color palates and fantastic shapes and patterns. And I love thumbing through fashion magazines. Some of that runway stuff is so colorful and crazy, how could you not be inspired. I also find inspiration at my "day job." I work in a molecular genetics lab, so I see some really great patterns and shapes. I'm always looking for inspiration.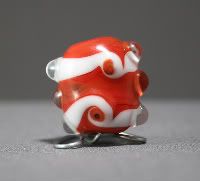 IB: Do you have a favorite color to work with?
Victoria: I would love to say green, because I probably own every shade of green bead and glass rod out there, but don't ever seem to make anything with them. Maybe I'm saving them (all of them) for something special? The number one color I seem to be drawn to is blue. The majority of my work is in blue. I guess I secretly love blue.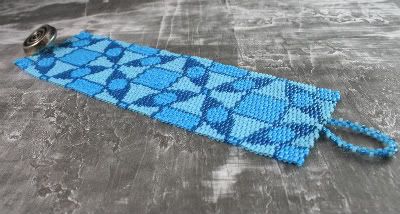 IB: Who do you hope to inspire with your work?
Victoria: I've never really thought about this. I guess I would like to inspire other beaders and designers. I'd like to show them that you should never give up. If one thing doesn't work, then try something else. Who knows what you'll learn about yourself.

You can view the amazing selection of beaded bracelets, necklaces and earrings at Victoria's shops on
Etsy
and
1000 Markets
. The variety of beading techniques and design concepts in her collection is truly inspiring. To see some of her hot-off-the-press designs, check in with her blog
Three Fates Design
.