Lately I have been working a lot with right angle weave, so I decided it was time to have a go at a little free form RAW. My previous attempts at free form stitching were not what I would call successful. With peyote and brick stitch, the bead weaving can get away from you, and the results aren't always pretty.
With RAW, there seems to be a lot more freedom. The wide spaces in the beadwork allow for quick stitching and easy embellishments. I followed the advice of
NanC Meinhardt
in the February-March issue of
Beadwork
magazine.
The Inspiration:
Using the
Izzy and Lucy Bracelet
project as a guide, I set out to create an organic-looking necklace with a woodsy feel. I pictured something that a dryad would make while sitting beneath her tree on a warm spring afternoon.

"Pixie Dust" by Howard David Johnson

The Beads:
In keeping with the freeform idea, I threw together a mixture of bead leftovers and matched them with a few items from my stash. I selected some foil lined forest green and topaz, matte brown, and frosted green seed beads. I also added some crystal copper-lined seeds that I had culled from another bead mixture. For texture I included some brown foil-lined 6o's and speckled 4o's.
The Beadwork: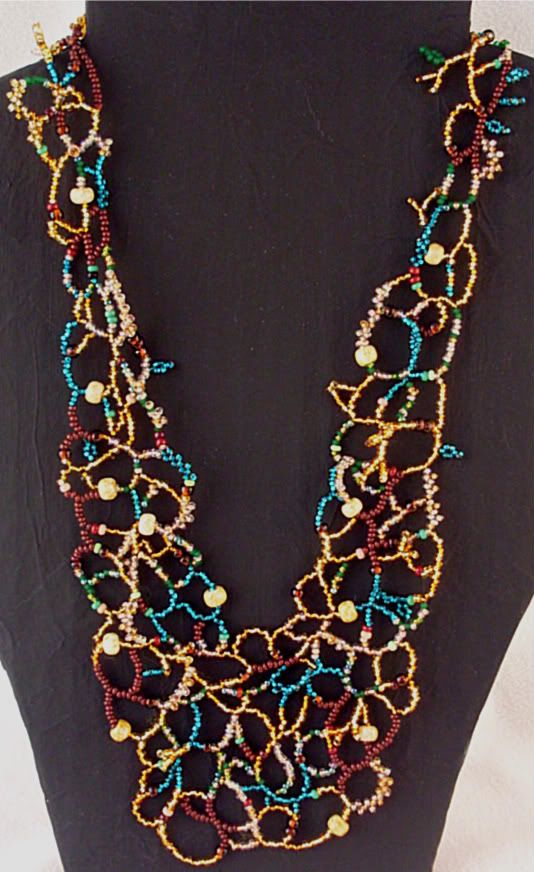 After a rough start, I managed to find my groove and the necklace eventually took the shape I had envisioned. After adding many loops of randomly chosen seed beads, I added leaf fringe and peyote stitch here and there for texture.
I'll be the first to admit it's not the prettiest thing I've ever made. But, for a first attempt, with a motley crew of beads, it turned out to be a great experiment.