A few years ago, I was completely oblivious to the world of bead weaving and jewelry design. I had been a lifelong lover of beads, but most of my stash went into bead-strand tapestries that I used to decorate my apartment.
I had been working on a tapestry that I hoped would look like a peacock feather when I picked up my first copy of
Bead&Button
magazine. I was instantly hooked, and my half finished art project sat under my coffee table for weeks, completely forgotten.
After awhile I decided it was time to scrap it, or make use of it. I couldn't bear the thought of using any of my beads to finish the project - that would take away from my new found love of jewelry making! Even taking apart the already finished bead strands and separating them seemed too time consuming. In the end, I decided to tie the ends of the threads together and make a multi-strand necklace.
It turned out to be one of the best multi-strand necklaces I have ever made. Wherever a picture of this necklace goes, people stop to comment. It's been a great confidence booster over the years, and is one of my all-time favorite pieces.
The Inspiration:
I recently gave the "Once a Peacock" necklace to a friend as a thank you gift, for helping me out when I really needed a hand up. It has been a great reminder of how to turn lemons into lemonade, and seemed like a great way to say "Thanks for saving my lemons!"
But, since then, I've had peacock feathers on my mind. There seems to be a bit of a void in my finished jewelry stash that cries out for more blue-green-and-gold peacock eyes.
The Beads: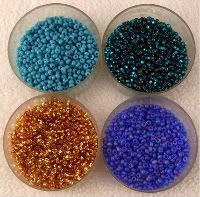 This time I skipped the cobalt blue and went with a frosted indigo color, which pairs up nicely with forest green. Also included in the seed beads was a brown foil-lined mix, opaque black, and opaque turquoise 10o's. For accent beads, and embellishments, I chose matte gold bugles, gunmetal 3o's, and gray copper-lined 6o's.
The Beadwork: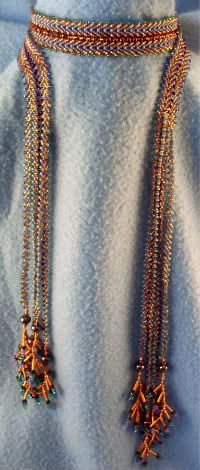 This time around, I went with a more abstract approach to the peacock feather. I wanted something that was long and luxurious, with a little body and a lot of fringe. To achieve the effect I wanted, I created four interconnecting St. Petersburg chains. The pattern of the beadwork changes slightly at the point where each chain meets another, so only the centre of the lariat, which wraps around the neck, has large beads.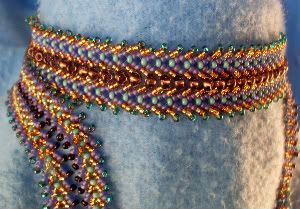 The single chains at either end of the necklace have a more speckled look, because the gold and indigo beads alternate one at a time, instead of row by row. Each chain ends in a coral style fringe using the matte gold bugles, with green and indigo leaves like tiny peacock eyes.
I was really happy with the results of this piece. Like many of my projects, there were a few moments when I thought my idea would not pan out. I'm glad that I stuck with it and saw it through to the end!