Color for Bead Artists
. A contestant on
Project Runway
was scolded for pairing orange with blue, but many fans likely disagree with the judges.
The Inspiration:
Another great example of differing views of beauty is the poor misunderstood dandelion. It is considered a weed, most likely because of it's resilience and rapid reproduction. Anyone wanting to maintain a pristine lawn frowns upon the little flowers. On the other hand, anyone who grew up picking and playing with dandelions finds them beautiful. Who can resists that crisp green and vibrant yellow?
I am not a fan of manicured lawns - I believe that irrigating and mowing grass for the sake of vanity is a horrible waste of resources. So naturally, I have no quarrel with dandelions, and I look forward to seeing their sunny faces every spring. After seeing the wonderful dandelion inspired brooch project in Lisa Crone's
A Bead in Time
, I wanted to do a little 'weeding' of my own. Now that warm weather and flowers are on the way, my craving for yellow is impossible to ignore.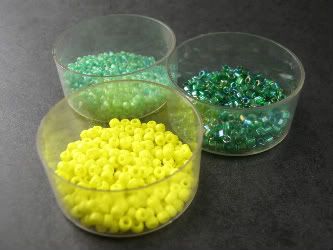 The Beads:
Dandelions are pretty simple things, so I kept my bead selections simple as well. For the green stem and leaves, I chose 11/0 seed beads in a frosted transparent green, and emerald AB hex cuts for a hint of texture. All that was needed was a bit of yellow, and I found it in opaque 8/0 Miyuki seed beads.
The Beadwork:
Since I was looking for a simple design, I decided to have another go at a hollow right angle weave bangle, this time using only one bead size for the outer face. I am really happy with the way that it turned out. The bangle is soft and slinky, and the hex cuts add a subtle sparkle along the edge. I can't wait to make another! I must thank Lisa for helping me out with this inspiration. If you're not familiar with her blog,
A Bead a Day
, I highly recommend stopping by to see what's new.
Copyright 2010
Inspirational Beading