Beads and nature always go together. The world's first beads were inspired by nature, and by early humanity's need to make use of everything at hand. Leftover shells, animal feathers, quills, bones and interesting stones were all used to make primitive and wonderful beads. Today, not all beads are natural, but even man-made ones can be used to channel our affection for Mother Earth.
One style of bead art that captures nature's charm is the beaded gourd. Made from dried and hollowed vegetables, these charming works of art can remind us of how beautiful nature is. We often keep the natural world at arm's reach, but artists like Nancy and John Chlpka give us the opportunity to embrace it again. The beautiful gourd bowls, birdhouses and jewelry from their shop,
Wet Dog Studios
, can inspire the Earth-lover in us all.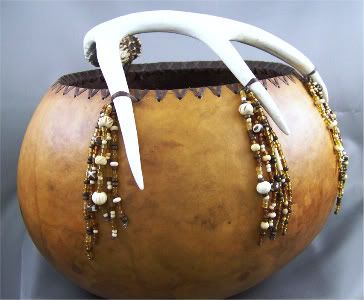 Inspirational Beading:
How did you become interested in working with gourds?
Nancy:
John gave me one as a gift. I got to wondering "Could I?" and for the last ten years the answer has been YES! Initially John hung around for the heavy lifting but about three years ago the gourd bug bit him, too. He has primarily stuck to pyrography and carving, but just last month added selections to my bead order!
Inspirational Beading:
What kinds of beads do you usually use to embellish your work?
Nancy:
On a gourd, bone beads are my absolute favorite. I'll often color them with a natural dye such as coffee or beets. Also, combining them with glass or shell beads can really make a design pop.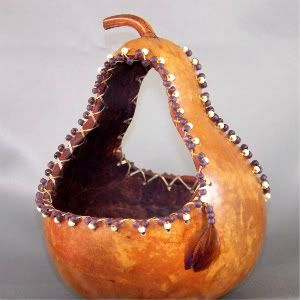 Inspirational Beading:
Do you have a favorite color or finish to use?
Nancy:
I've used every color in one project or another but usually find myself in the brown family. My designs use mostly a matte bead accented by intricately carved or flashy glass beads.
Inspirational Beading:
If you could master any new technique, what would it be?
Nancy:
I've finished a lot of gourds with rims of woven natural materials, and I'm experimenting with stringing beads to give gourd bowls a "necklace" finish.
Inspirational Beading:
Who do you hope to inspire with your work?
Nancy:
Anyone with an interest. I think people become so busy they ignore their own creativity. John and I spend hours at Art Festivals answering questions for up and coming artists - it's wonderful!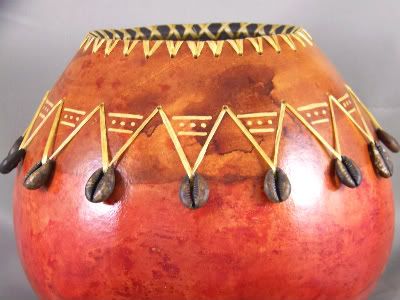 Nancy and John Chlpka live in rural Western Pennsylvania with their two dogs. The dogs play an important role in the business. Spike is Director of Human Resources, and Vegas is Director of Special Events. Both helped coin the motto for the business: "There's Nothing Friendlier Than A Wet Dog!" All are big supporters of the Animal Rescue group.

Nancy and John are frequent speakers at Art Guilds and Garden Clubs in their area, spreading the word about gourds. Both have won awards for their artwork and in addition to their Etsy site they are featured at The Blue Heron Art Gallery in Volant, Pennsylvania. Nancy and John are members of both the American and Kentucky Gourd Societies. They source their art-quality gourds from nearby suppliers, such as Front Porch Crafts of Kentucky.

To see even more of their designs and wares, including wood carvings and antique glass, visit Wet Dog Studios on Etsy.com.
Copyright 2010
Inspirational Beading
and
Wet Dog Studios