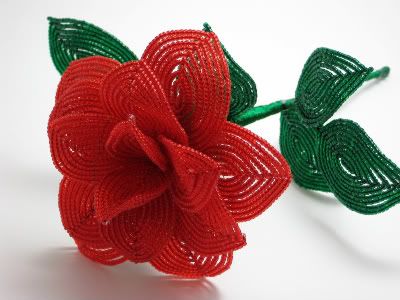 Every now and then, a beader will come across another artist's work and think "Why don't I do that?". Even the most experienced jewelry designer can be mesmerized by what others can do with beads. We look at beautifully sculpted peyote stitch vessels, or embroidered masks, and wish that we had the time to learn how to do it. What we may not realize is that by putting off that desire to learn, we could be missing out on our true calling.
One artist who did take the plunge is Fen Li of
Bead Flora
. Just one look at her amazing French style beaded flowers, and you'll wonder why she ever did anything else!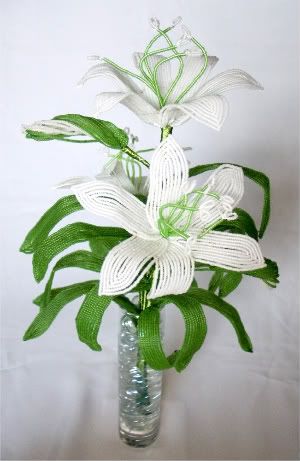 Inspirational Beading:
When did you first begin working with beads?
Fen:
I first became acquainted with beads when I was a little kid… I was probably 6 or 7. I was over at my cousin's house and they had a strand of pearls on the wall, and I took it down and ran my fingers over the pearls. I looked forward to going to their house… but the next time I went, it was no longer there.
I began with seed bead jewelry in high school. I invented my own designs for chokers and bracelets. It was finally in 2002 when I discovered French beaded flowers and found my calling.
Inspirational Beading:
How did you discover the art of beaded flowers?
Fen:
I had just gone to my first
Bead and Button Show
in Milwaukee. I had new beads and books on making seed bead jewelry. I decided to search the internet for inspiration. I came across French Beaded flowers and was hooked since. I stayed up at all hours of the night looking at the beautiful flower creations.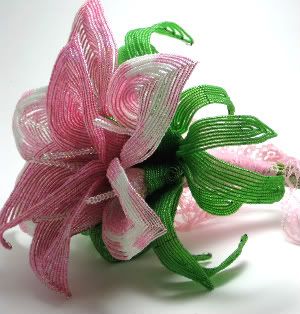 Inspirational Beading:
Is there a type of flower design that you're still eager to try?
Fen:
Ideas are always brimming over in my head. I want to create a peacock-inspired flower bridal bouquet. I'm debating if I want to do that with roses or calla lilies.
Inspirational Beading:
Do you have an all time favorite bead color?
Fen:
Silver.
Inspirational Beading:
Who do you hope to inspire with your work?
Fen:
I hope to inspire fellow artisans to embrace the value of their work and time.
Fen considers herself to be "a stickler for quality beads and fine craftsmanship". You can stay up to date with her latest designs by following her on Twitter and on Facebook. To see even more of her beaded flower creations - from wedding bouquets to hair accessories - visit her Bead Flower Jewels shop.
Copyright 2010
Inspirational Beading
and
Bead Flora