Today, my guest is the wonderful designer behind
Joan Hunter Handmade
, who shares her love of nature's colorful treasures.
Inspirational Beading:
What is your all-time favorite bead?
Joan:
I had such a hard time choosing a favorite! I'm sure my fellow bead-addicts understand! Lampwork, gemstone chips, crystal, ceramic... the list goes on and on, and I love them all! If I really have to choose just one type of bead, I would say I tend to covet semi-precious gemstone beads the most.
I am fascinated by the range of colors and textures that come from natural stones! There are some stones you look at and think they can't possibly be a result of nature.
Sunstone
for instance, with all of that glitter and sparkle throughout, you'd think it was man-made, but it is just another one of nature's stunning, original creations!
Inspirational Beading:
What is your favorite technique or method to use them?
Joan:
My very first step is to research the
myths and legends
that surround the type of stone I am using. You will find that most stones have some sort of legend or origin myth linked with them.
Amethyst
, for example, has a very interesting Greek myth associated with how it attained its name and color.
These stories often inspire me in how I use the beads and what I create with them. Many people also feel that various types of stones have mystical and/or healing properties, and as a die-hard romantic, I am very attracted to that idea. When using gemstone chips, I like to use many strands woven together or braided as in this
Green Peridot and Pink Cherry Quartz Multi-Strand Necklace
.
Inspirational Beading:
Of all the creations you've made with these beads, which one is your favorite?
Joan:
My "Last Frost" necklace, contrasted the ethereal frosty blue hues of natural amazonite beads with large pink cherry quartz chips.
Inspirational Beading:
Do you have any tips for making the most of these beads?
Joan:
Definitely. With all the incredible variety available in terms of color and shape, it's easy to get swept up in using only the eyes to guide your designs, but the stones have much more to say when you hold them in your hands and get a sense for their weight, hardness, how they react to the temperature of a human body, how they will hang when strung, etc.
It is amazing to think about what forces within the earth took place to create each and every one of these beautiful gems. Each one will have quite a tale to tell, and it is a story worth reflecting in any design in which they are used.
Inspirational Beading:
What is your favorite bead or material to pair these with?
Joan:
I find that various metals look fantastic with gemstone beads. Copper and turquoise are a favorite pairing of mine!
Inspirational Beading:
If you were stranded on the moon, and you could have only one kind of bead with you, would you choose these?
Joan:
Yes I would definitely choose these! I can picture myself happily beading on the moon using earth's treasures, and looking around for moon rocks to incorporate!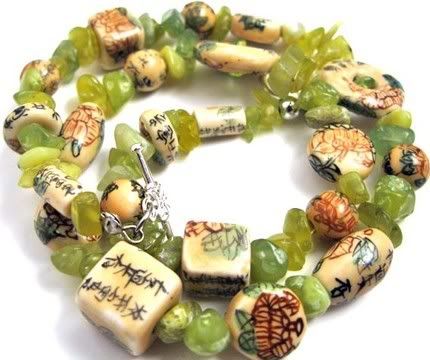 Inspirational Beading:
In your opinion, what is the best source for these beads?
Joan:
There are several great ways to get your hands on these beauties, but I have recently become aware of one thing to avoid - buying from suppliers who source their stone beads cut in factories where their workers become ill from
silicosis
(by inhaling the dust it creates). The problem can be
easily
prevented by employing the use of respirators, but many third-world countries do not have labor laws in place that would compel factories to live up to such a standard.
If possible, try to buy domestically cut stones for this reason. Unfortunately, the gem trade in general has more than it's fair share of ecological and ethical issues, something to keep in mind when looking to add to your bead stash.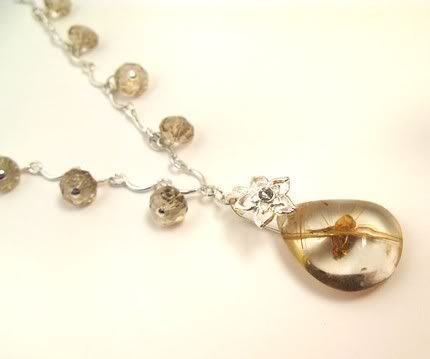 To see more colorful and mythical gemstone designs, you can visit Joan Hunter Handmade on ArtFire, and Zibbet.
Copyright 2010
Inspirational Beading
and
Joan Hunter
Feature Your Designs on Inspirational Beading