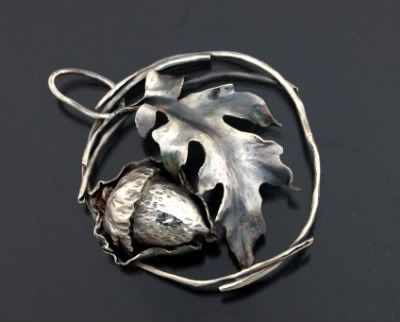 Today my guest, Kirsten of
The Leafylady
, shares the inspiration and skills behind her beautiful sculptural jewelry designs.
Inspirational Beading:
What is your all time favorite beading or jewelry technique?
Kirsten:
It's hard to decide. I like the techniques of chasing and repoussé the best. I can create life-like relief images from sheet metal, without casting or clay.
Inspirational Beading:
How do you first learn to use this technique?
Kirsten:
I taught myself when I needed to make some bas-relief faces for a sculptural piece. Later I had the opportunity to watch a Japanese artisan work. I couldn't ask questions because of the language barrier, but I watched attentively and learned enough to progress in the technique.
Inspirational Beading:
Of all the creations you've made with this technique, which one is your favorite?
Kirsten:
There are so many favorites. If I had to pick a favorite, I would choose this bronze dragonfly on a leaf. There is a gallery or set of my chasing and repoussé work on
Flickr
.
Inspirational Beading:
Can you share any tips for getting started with this method?
Kirsten:
I like the book
Chasing & Repoussé
by
Nancy Megan Corwin
. To get started, I'd suggest taking a class. An advanced metalsmith could probably teach his/her self with some tips from a book. A beginner or intermediate metalsmith would benefit from some hands-on instruction.
Inspirational Beading:
Do you have a favorite material to use it with?
Kirsten:
18k gold is my favorite, but it's not so affordable. Right now, I enjoy working with sterling silver.
Inspirational Beading:
If someone had to choose to learn only one technique, would you recommend this one?
Kirsten:
No, I wouldn't recommend this as the primary technique. It's an advanced technique with specific applications - making images or textures. For a primary technique, I'd recommend that an artist choose to learn forging.
Inspirational Beading:
In your opinion, what is the best place for beginners to learn this technique?
Kirsten:
At a week long intensive workshop hosted by a craft or jewelry school.
You can see more of Kirsten's design and get the latest news on
The Leafylady's Facebook page
.
Copyright 2010
Inspirational Beading
and
The Leafylady