No matter how many beading techniques we learn, there will always be one or two that we return to again and again. Perhaps they have a look or feel that we really enjoy, or work well with our favorite beads. Sometimes the best stitches are the ones that we can just sit back and weave with ease, and they are the ones that make beading a relaxing pastime.
Today, my guest is Virginia of
Goblins' Market
, who shares the origins of her favorite beading technique.
Inspirational Beading:
What is your all time favorite beading or jewelry technique?
Virginia:
It is so hard to choose a favorite. I love to make netted beaded fringes on scarves and I love to work in circular right angle weave.
Inspirational Beading:
How do you first learn to use this technique?
Virginia:
I worked out netted fringe on my own but learned the stitch I use to create a foundation row from a
Bead & Button
magazine in the early 1990's. I learned circular right angle weave from a
Marcia DeCoster
article in
Bead & Button
several years ago.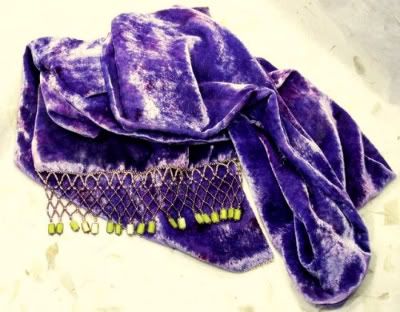 Inspirational Beading:
Of all the creations you've made with this technique, which one is your favorite?
Virginia:
I think my favorite creation so far is a
scarf
I made for a friend's daughter last spring. It was made with an orchid purple silk/rayon velvet that I dyed and overdyed myself, and edged with a gorgeous netted fringe. I used some yummy green table cuts for the fringe finials.
I really enjoyed working with such rich colors on that sumptuous velvet surface. I also really enjoy knowing that the recipient will value this scarf for a long time - both as a gift from her dad and something hand made by me. I hope her daughters will enjoy it as much as she does! I love to work on custom orders - especially when they involve both fiber
and
beads!
Inspirational Beading:
Can you share any tips for getting started with this method?
Virginia:
When working with a beaded fringe, it is very important to have a sturdy, well spaced foundation row. I'm working on creating a tutorial to offer in my shop on creating a foundation row - I may get it done by January 2011. (And that may be a very optimistic estimate!)
The foundation row secures the fringe to the fabric and is the basis for the spacing of your fringe. Getting that on neatly is the first important step. The next challenge with beaded fringe is to work with a fairly long thread and to remember to tie off often. The length of thread I work with is often prone to tangling, especially since I work with a doubled thread for strength.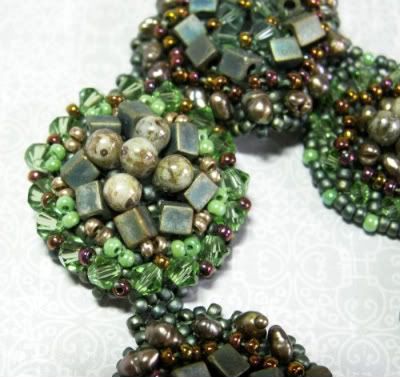 Be patient. Never tug on a knot. Use your needle to loosen knots. Go slowly and work in a position and place that allows you to see your work clearly. Eventually you will find a way to hold the thread apart from itself with your fingers as you stitch. This will help you minimize knots and go faster.
I always tie off after every third section of netting or after every 4 or 5 single strands. This minimizes bead loss and re-working time if the unthinkable happens to your scarf and the fringe gets broken. I also always include a small vial of repair beads for these velvet scarves. They may travel a very long time in their lifetimes and I want their owners to be able to easily find the necessary beads for a repair, should that ever be needed.
Inspirational Beading:
Do you have a favorite material to use it with?
Virginia:
Silk Velvet! I also put simpler beaded fringes on some of my other hand painted and dyed scarves but velvet and silk dupion are the only fabrics I've worked with so far that really can carry the weight and luxury of a full netted fringe really convincingly.
Inspirational Beading:
If someone had to choose to learn only one technique, would you recommend this one?
Virginia:
I would recommend that they learn the foundation stitch. Once one has learned to put the foundation row on neatly and without significant trouble with tangles, they will have worked with the beads and the fabric enough to begin making intuitive guesses about how they can add onto and embellish that basic foundation. The foundation row lends itself very nicely to peyote stitch - I have added solid peyote strips to the bottoms of scarves instead of dangling fringes in the past to very good effect! - and to many variations of fringes.
Inspirational Beading:
In your opinion, what is the best place for beginners to learn this technique?
Virginia:
I am a "manipulative" and visual learner, so learning from illustrations in a magazine works well for me. (That's a good thing because we live very far from any large city with an active beading guild!) Anyone who is an auditory learner should look for a teacher, a class or a guild to learn from.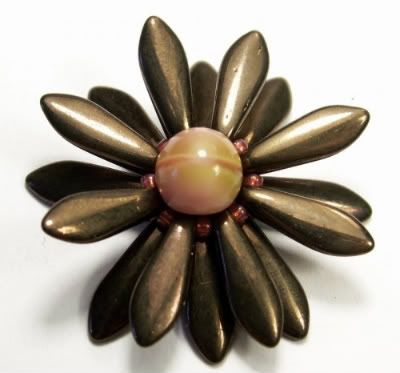 I occasionally teach a "Beading on the Fringe" class on applying fringe to a scarf or ribbon; some of my students pick up the techniques just by looking at my illustrations. Others need to see me walk through the steps several times and still others need me to talk them through it step by step. It all depends on how your brain processes information best.
Recommend sites for fiber arts and more:
Stitchin Fingers
Pin Tangle
ArtCloth Studios
Copyright 2010
Inspirational Beading
and
Goblins' Market