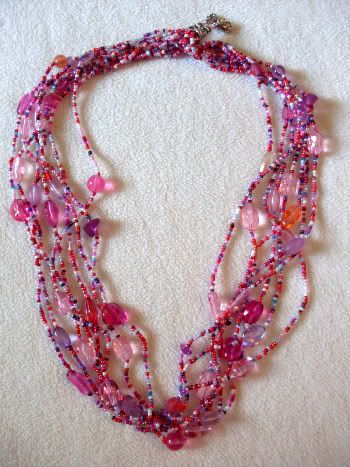 Compared with previous months, November 2008 was a fairly steady month here on Inspirational Beading. Although there were only three posts in all, I was beading steadily and chronicling each piece with a new found momentum. I was really starting to like the concept of beading and blogging side by side, though it hadn't yet occurred to me to write about any other topics just yet.
November was special because it was the first time that I created something for the purpose of awareness. That month, I made a
pink multi-strand necklace
as a way to merge my support for international
bullying awareness week
, and Canada's
Pink Shirt Day
, which actually occurs in February. Creating a design and sharing it with an audience - even the small one Inspirational Beading had at the time - was a big step for the blog, and one I have been eager to continue with in various ways throughout the last three years.
Making this pink necklace wasn't just an important moment for the blog, but for me as a beader as well. Today it is an interesting example of the things that motivate us to create. When we begin our journey into the world of beading, our desire to learn something new is often what drives us to keep going. Of course, trying out new techniques and materials is a constant motivation once we realize how agreeable this art form is - but without those extra inspirations, our creativity can go around in circles.
Whether we want to make gifts that our friends and family will love, tell a story, or capture a particular theme, finding a motivation for our beadwork is what helps us move on from simply combining materials and stitches, to truly designing works of beaded art.
This pink necklace isn't exactly a work of art, but it was a momentary spark of determination. Suddenly, beading wasn't just a fun thing to do, but a tool and a channel for other, sometimes greater, things.
What's your greatest creative motivation?
Copyright 2011
Inspirational Beading
Subscribe
to Inspirational Beading
Get inspired on
Facebook