Glass accent beads come in an almost endless variety of shapes and colors. Whether you're looking for pieces to make beaded beads, or to dress up a multi-strand necklace, finding just the right accent beads is always a treat.
When I was searching for the perfect glass rounds to create
beaded starfish
with, I was really drawn to the shimmer of fiber optic beads. Not only were they the perfect color, but the unique shine of the layered glass added a little extra something to an otherwise simple design. They're so much more than just colored glass.
The band of light that runs through fiber optic beads - called chatoyance - is intended to mimic the gemstone
Chrysoberyl
. The synthetic glass versions are not only less expensive, but come in a variety of interesting colors and shapes.
Although the selection of fiber optic beads is small compared to other glass beads like crystals, the combinations of shapes and colors are endless. My personal favorite is the 6mm round, but you can also find cat's eye cubes, donuts, and even fetishes in a handful of fun colors.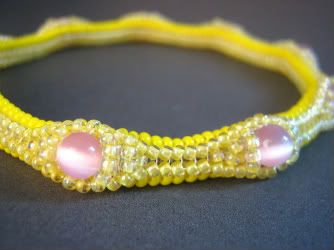 Some excellent examples of how beautiful fiber optic beads can be in jewelry designs include
Melon Menagerie
by DaydreamBeadlover, and
Asilia Tribal African Necklace
by AfriqueLaChic. These pieces use an abundance of cat's eyes for maximum effect. But these little beauties are great for a splash of shine or color as well. They make great accents for earrings, like simplebetty's
Antique Silver Charms
, and LaBellaJewelry's
Ocean Theme Trio
.
If you're looking to try out some fun techniques showcasing shiny cat's eyes, a few great projects to try are:
Raja Floating Wire Necklace
from Lytha Studios
Golden Glimmer Choker
and
Princess Bracelet
from Artbeads.com
Illusion Bracelet
from Witty Living
Glass cat's eye beads may not be all-seeing, but they can certainly turn heads. Have fun!
Copyright 2009
Inspirational Beading