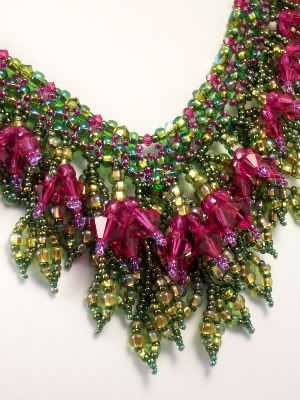 When it comes to using color, bead weavers may just have the most elaborate palettes to choose from. There are thousands of different seed bead colors and finishes, which can be combined in endless ways with other types of beads. Add to that the variety of colored threads, cords, and fabrics, and the color possibilities are endless.
Marsha L. Wiest-Hines, of
Haute Ice Beadwork
, puts her color choices to work, creating bold and inspiring pieces with extraordinary flair. From bright and sassy pinks, to elegant golds, her designs are true eye-candy.
Inspirational Beading:
How did you first discover beadweaving?
Marsha:
For my birthday in July 2007, a friend gave me a lovely little strung bead bracelet her daughter had made as a gift. My wrists are really, really small, and I thought to myself, "How hard could it be to make this fit?" For the same birthday, another friend gave me a gift certificate to Barnes & Noble. I have always been a person who likes to learn for myself from books, so I went to the book store and found
Jewelry Making & Beading For Dummies
. Right next to that book was
500 Beaded Objects
. I opened the book and felt like I had fallen through the looking glass. I was astonished and mesmerized. I can't even think of words big enough to describe how I felt. All I could think was, "I WANT TO DO THIS!!!"
Inspirational Beading:
What kinds of things inspire you the most?
Marsha:
I find most of my ideas while walking my dog! I love gardens and flowers and most things in the natural world, so often I walk past things I find heart-meltingly beautiful, and want to try to capture that beauty in beads. I have a masters in Costume Design and have designed and made costumes for competitive ballroom dancers through my business "
Made for Movement
" since 1987, so the glitz and glamour of that world is certainly an influence. I also worked for the
Guthrie Theater
and
Children's Theater of Minneapolis
, so my pieces tend to be theatrical and emotionally expressive. I've had just enough costume history to realize that some of my ideas look like they are from another time. Sometimes the walking itself just seems to stir up ideas I've had floating around in my mind and they fall together for me in new ways, and I can't wait to get home to my beading bench.
Inspirational Beading:
What is your favorite color to work with?

Marsha:
Most of my dance wear clients fall into one of two camps. Either they love reds, blues, purples and pinks, or they love greens, yellows and oranges. I belong more in the second camp, but after I have made 20+ gowns for a client, they have usually had one of nearly every basic color, and I'd say that is where I am, now. Every color is beautiful in my book, but I do seem to struggle with silver a bit. Just can't seem to get comfortable with it, although I do use it.
Inspirational Beading:
If you could try any new technique, what would it be?
Marsha:
I really have to try lampworking!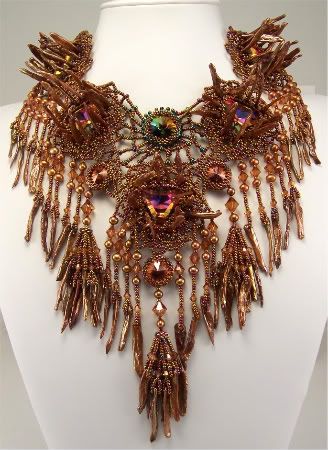 Inspirational Beading:
Who do you hope to inspire with your work?
Marsha:
I don't think I really hope to inspire anyone, although I think I do have an aim to communicate. I make my work because I want to re-create something awesome I saw or experienced, and in doing so, preserve that experience and joy. When others share my vision of beauty and want to own it, that is completion for me. I think my weakest work was created when I first opened my Etsy shop and thought, "What would people want to buy?" My soul was not engaged in that stuff.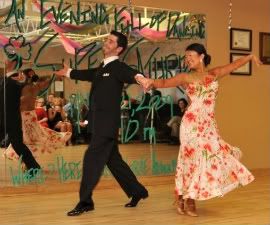 Marsha creates her beadwork from her home in Minnetonka, MN, which she shares with her husband Carl and son Zak. Beading has caused her to stray from her garden, but she always makes time to walk with her Nova Scotia Duck Toller, Gingerbread, and their daily walks provide plenty of inspiration. She also has a beader's best friend - a 22 year old cat named Samantha.
In addition to being a member of the
Etsy BeadWeavers
team, Marsha is also a member of the
Upper Midwest Bead Society
, and an unofficial beading club founded at her favorite bead store,
Bead Monkey
. You can catch up with her latest creations on her blog,
Haute Ice Beadworks
.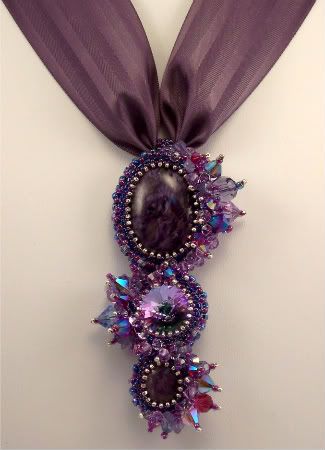 Copyright 2009 Inspirational Beading and Haute Ice Beadwork