Thank you so much to everyone who visited and commented earlier this week, and especially to everyone who shared their favorite
color combinations
. One visitor was drawn for a $25
Artbeads.com
gift card. Congratulations to
Mary K. McGraw
! Spend it well!
Mary's favorite color combination was brown and green with a hint of red. To celebrate the first Inspirational Beading giveaway, this week's Poster Sketch is full of woody browns, leafy greens, and deep, natural reds.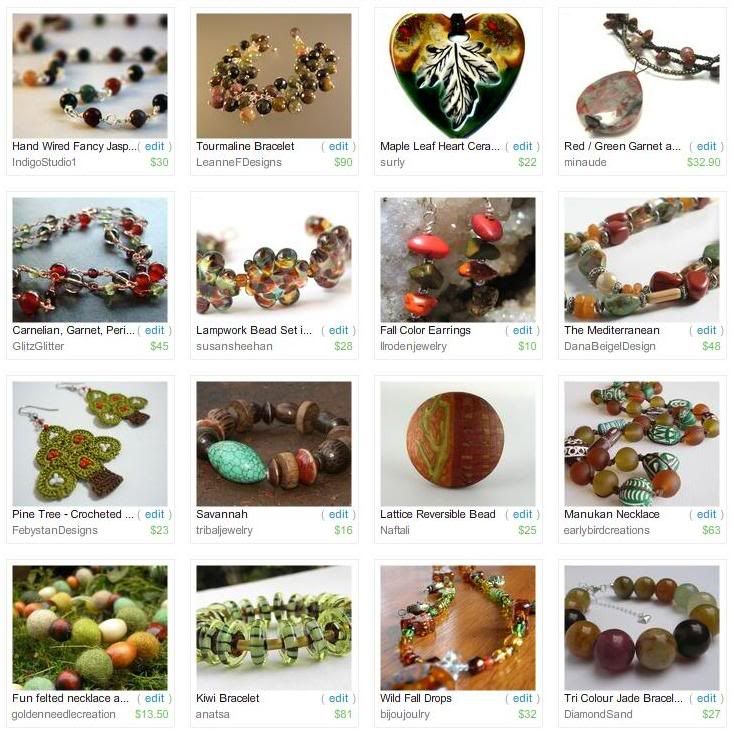 Row 1:
Hand Wired Fancy Jasper Necklace - by
IndigoStudio1
Tourmaline Bracelet - by
LeanneFDesigns
Maple Leaf Heart Necklace - by
surly
Garnet and Mahogany Obsidian Necklace - by
minaude
Row 2:
Autumn Berries Necklace - by
GlitzGlitter
Lampwork Beads in Green and Brown - by
susansheehan
Fall Color Earrings - by
llrodenjewelry
The Mediterranean Necklace - by
DanaBeigelDesign
Row 3:
Pine Tree Earrings - by
FebystanDesigns
Savannah Bracelet - by
tribaljewelry
Lattice Reversible Bead - by
Naftali
Manukan Necklace - by
earlybirdcreations
Row 4:
Fun Felted Set - by
goldenneedlecreation
Kiwi Bracelet - by
anatsa
Wild Fall Drops Necklace - by
bijoujoulry
Tri Color Jade Bracelet - by
DiamondSand
You can still have a chance to win with Artbeads.com by entering the
Holiday Cheer Sweepstakes
! The prize is a $100 gift card, good for all kinds of fabulous beads and treasures! Click on the icon below to visit Artbeads.com on Facebook, and get all the details.


Copyright 2009 Inspirational Beading and Etsy.com