Most color combinations that look amazing can be explained by looking at their positions on the color wheel. There's a science to mixing colors that we sometimes use without realizing it. Still, there are some combinations that are wonderful no matter what the wheel says. Perhaps it's because we see them together all the time - something that nature has put together, or maybe the jerseys on our favorite sports team.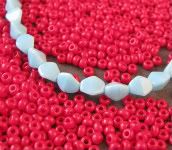 Most of my favorite color combos can be found on the wheel. I adore Chocolate and Mint, which are really just orange and green at different values. Coral Red and Turquoise Blue is another favorite, although I haven't been brave enough to use it just yet. Then there is a combination I like to call Barbie Doll - blonde yellow with electric pink.
What color combinations do you find the most inspiring?
Share your all time best color combinations for a chance to win a $25 e-gift card from
Artbeads.com
! You can use it to stock up on all of your favorite bead colors. How about lemon and lime? Sky blue and leaf green? Black and white!
To enter the giveaway, leave a comment telling us what your favorite color combination is. You will also need to include your email address if you do not have email enabled on your Blogger profile. Spam bot free is okay (YourNameATYourMail.com). A winner will be randomly drawn on Wednesday, December 16th.
And if you have a handmade shop or blog, don't forget to enter the
Inspiration Theme Contest
, too!
So, what beads do
you
love to put together?
Copyright 2009
Inspirational Beading