Many beaders are currently hard at work, creating their entries for the
2010 Fashion Colorworks
contest hosted by My Lovely Beads. This challenge is based on the
Pantone
color selections, chosen as the top trends for the year. Participants are asked to create a piece of beadwork using one of the three color triads created from this year's top shades.
I had a great time working out a design for this challenge. I started by selecting a palette that I liked, then took every single bag, box and vial out of my bead cupboard and picked out all the matching colors. With the beads laid out before me, I pushed them around, mixing and matching until I had a palette that I liked, with beads that would work well together in a design.
Although I don't think I'll have the time to create a piece for the contest, I had so much fun finding the beads that it has inspired a new Inspirational Beading segment. Using a single image for inspiration, I'll explore different bead and color possibilities, and perhaps create some interesting beadwork along the way.


Radio Occultation: Unraveling Saturn's Rings
Image Credit: dcorking.
For the first ever Bead Color Triad, I found this amazing NASA image of
Saturn
. The white, green and violet stripes aren't quite what we imagine when we think of Saturn's rings. They don't look dusty, but they do look wonderfully cosmic. I also think of sports socks when I look at this picture. Something about colored stripes on a white background, I suppose. It would be interesting to see what other images this color trio could inspire.
After using my colored paint swatches to create a basic palette, I searched through my bead stash for similar colors that would work together in a single piece of beadwork.
The
Night Tide
triad is made with green shell coins, creamy white mother of pearl chips, and indigo colored 11/o seed beads. Although the original inspiration is from outer space, the palette was easily transferred to an aquatic theme. I like the deeper, almost muted shades here. These aren't your typical ocean colors, but they still have an unmistakable ocean quality.
Chemistry Set
uses white cat's eye cubes and rectangles, transparent violet seed beads, and white-lined peridot seed beads. Although each of the colors could be considered organic on it's own, together they have a modern, man-made look. These are the colors you might find in a space station science lab. I can see them being used for a quirky, edgy bracelet or necklace.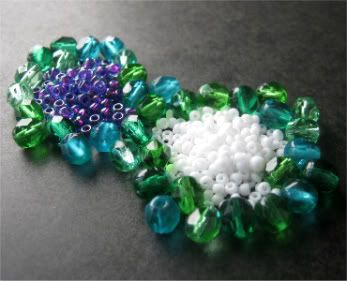 Moon Jewels
is my favorite by far. I started with a packet of
Czech fire polish
rounds in the Green Tones mixture, and removed the olive beads. Then I added fuchsia lined violet 8/o seed beads, and opaque white 11/o's. This palette is vibrant and sweet - great for a summer project. The colors seem cool and warm all at the same time, like a splash of water on a hot summer day.
All three palettes are so interesting, I can't decide which one to use first!
Copyright 2010
Inspirational Beading