Big Dipper in Predawn Twilight
Photo Credit: jpstanley.
One of the most wonderful things about beadwork is that there are no rules. If you can dream it, you can bead it, so to speak. Not only is it possible to turn tiny seed beads into amazing objects, but they blend so well with other components that nearly any object in the universe can be paired with beads. Thanks to the popularity of the
Steampunk
genre, found object jewelry and artwork is in high demand, and there are plenty of tutorials for creating your own. What's really exciting about beadwork, and art in general, is that you don't need an expert to tell you when a found object inspires you. It just does.
The Inspiration:
I was recently invited to take a tour of the jewelry making selections at
Beads Direct
. One of the first things that caught my eye was a variety of filigree-inspired carved
river shell components
. Sold in pairs, I'm sure that these pieces are meant to be used as earrings. I have yet to solve the problem of most earrings requiring metal parts, so you'd think that I would have just passed these dangles by. But I wanted them, and I was determined to find a way to use them.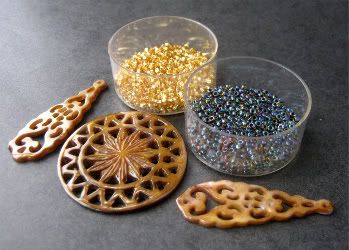 The Beads:
I paired the coffee-colored shell dangles with a matching pendant, featuring a beautiful swirling sun design. I love that these components are full of holes, and spaces, which really call out to be filled with beads. If I had not already imagined the perfect design for them, I might have gone with a free-form design with many interwoven strands of beads.
For the beadwork, I selected my old favorites, navy-lined yellow 11/0 seed beads. These would provide an interesting sky-like background for the shell. To dot them with stars, I added silver-lined topaz seed beads, and black vitrail daggers.
The Beadwork:
I pondered for awhile, trying to think of a way to use all three pendants in one piece, with each one laying flat and facing the front. I decided to go with a bib necklace, using round right angle weave for the base. I often worry about repeating myself to much, but when style works for me, I just go with it.
I considered a few different methods for attaching the pendants. Because they are drilled from front to back, they couldn't be stitched into the RAW base in the usual way. I attempted a few different things, until it became apparent that the simplest solution is really the best. Each of the shell dangles and dagger beads is suspended from one of the RAW loops, on it's own, separate loop of seed beads, with many thread passes for maximum strength.
I'm very pleased with the way the golden brown shell looks against the navy-lined yellow. I also love the way the shells tinkle against the other beads, like wind chimes. This will be a tough piece to part with!
I would like to thank Beads Direct UK for providing the river shell pendants used in this piece. Inspirational Beading has not received paid compensation for including Beads Direct products or reviews in this blog post. I have shared my honest opinions about the products used in this design.
Copyright 2010
Inspirational Beading