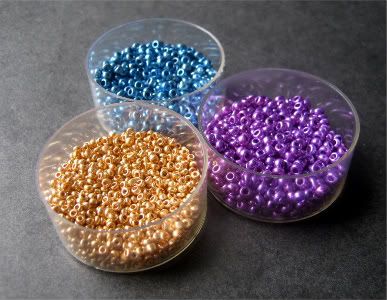 Galvanized, or metallic, seed beads have often been the source of much frustration for bead weavers. Most beads coated this way loose their finish very quickly - sometimes just from contact with the skin. The result is that over time, instead of having a shiny, colorful piece of beadwork, you have a piece that is mostly clear with flecks of color.
The newer Duracoat galvanized coating by
Miyuki
is reported to have a stronger, wear resistant finish. Although the color and shine are not quite equal to traditional galvanized seed beads, neither matter if they just wipe off anyway. Still, the old style of metallic seed beads are available from other manufacturers, and even desirable, too.
Some beaders don't mind the loss of color - it does give the finished piece a sort of patina-like appearance. In one of the many beading books I've read, the chapter on materials suggested that galvanized seed beads be used only for non-wearable art beadwork. Apart from the beader's fingers during construction, a beaded sculpture isn't likely to be rubbed clean of it's finish.
There are other ways to get around this problem, if you can't resist something shiny, and have a huge stash of galvanized beads wanting to be used. A common solution is to place a small quantity of beads into a sealable bag, and spray in some Krylon lacquer or Aqua Net hairspray. After shaking the bag to distribute the sealer evenly, the beads will have a protective layer to hold the color in place.
But if you take issue with aerosol and products with fumes, another way to deal with the flaking finish is to hide it. You can use galvanized seed beads to create a base that will later be embellished so heavily that the coating can't be seen - flaked or not. Size 8/o and 6/o galvanized seed beads make a good base for double spiral rope, since the tightly packed rows of spirals completely cover the core.
I have a small stash of galvanized Czech seed beads that I bought before changing my taste for metals, and I often use them for experimental beadwork, to test stitches and create prototypes. Like many others, I don't mind the vintage look that the faded beads take on, and I have a few of these well worn experiments in my collection.
How do you use galvanized seed beads?
Copyright 2010
Inspirational Beading