The Inspiration:
While browsing at my local bed and bath shop, I came across some pretty bamboo place mats. At first I thought they would look great on my kitchen table, and then I realized that the rectangular bits of bamboo were in fact beads. I scooped one up immediately and got to work on some ideas for using the smooth little rectangles in jewelry.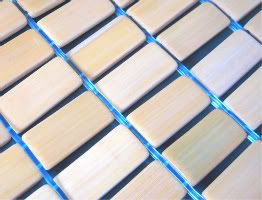 The Beads:
It occurred to me that it would be easy enough to mimic the look of bamboo stalks using green seed beads and bugle beads. I selected some emerald green bugles, and paired them up with lighter colored peridot 11/0's. To act as bumpers between the smaller beads and the bamboo rectangles, I grabbed some foil-lined brown 6/0 seed beads.
The Beadwork:
To keep things simple, I selected enough bamboo beads for a long necklace that would require no clasp. Between each, I strung short rows of bugle and seed beads, then stitched back through and added little leaves here and there. This necklace is one of those great triumphs where the finished piece turns out exactly as envisioned.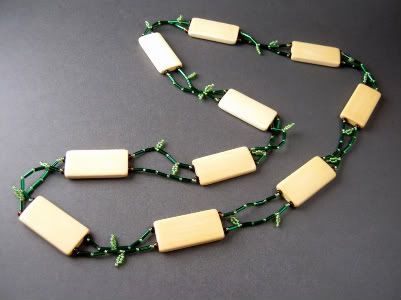 Copyright 2009 Inspirational Beading