scars on Mother Nature
that cannot, or will not, be erased.
The Inspiration:
I wanted to create an amulet that not only represented the power and beauty of the earth, but included a piece of her as well. Rather than use a traditional 'natural' bead, I chose a simple stone as the focal point.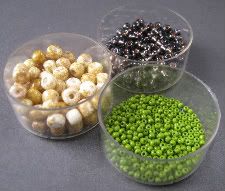 An ordinary rock, polished by erosion, can be just as awe inspiring as the bluest turquoise, or shiniest diamond.
The Beads:
In addition to a dark gray stone, I selected a few earthy beads. To represent nature as vegetation, I picked lively green apple 11/0 seed beads. To compliment the stone, I grabbed some copper-lined gray 6/0's, and white and brown flecked 4/0 seed beads.
The Beadwork:
To make the amulet portion of the necklace, I encased the stone in seed bead netting. I was pleased to discover that, under the thick jacket of beadwork, the stone has a very ova-like shape. This adds one more element of "
Earth Mother
" that I hadn't counted on. The straps of the necklace were made with right angle weave, and I added looped fringe with some turquoise Picasso teardrops and leaves. Although the pendant isn't the lightest of materials, the necklace does not feel heavy at all.


Copyright 2009 Inspirational Beading