Disclaimer: This post features some (totally awesome feminist) content that might not be considered safe for work.
Vulva Love Lovely
. The amazing handmade collection of "vulva pendants, vagina pillows, uterus plushies, eco friendly cloth menstrual pads and handmade feminist love" is a truly inspiring way to celebrate being a woman. Whether you're a true feminist at heart, or just proud to be female, the unique designs of Vulva Love Lovely are something to behold.
As soon as I saw the hand sculpted polymer clay vulva pendants, I knew that I had to get one for my wonderful sister in law. She is without a doubt the strongest woman I know, and much deserving of such a pretty badge of honor. Amy is a beautiful model, an incredibly dedicated mother, and a one of a kind friend. I can't imagine a better way to celebrate her than with a necklace as bold and original as she is. She's also pretty cheeky and doesn't seem to know the meaning of the word "shy", so I thought a vulva necklace would be the perfect addition to her wardrobe.
The Inspiration:
I wanted to create a necklace of my own design, and so I asked the artist, Jessica Marie, if she would create a custom pendant for me to use in a special necklace for Amy. She kindly agreed, and soon after I had a gorgeous pink and orange "flower". As soon as I picked up this little treasure, I felt instantly empowered.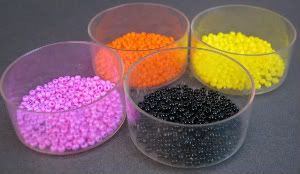 The Beads:
To match the vulva pendant, I picked some 11/0 seed beads in opaque pink and orange, as well as a sunny yellow. To add a touch of goth-punk flavor, I also grabbed some black 11/0's. Once I had this palette, I created a mixture of transparent pink and gunmetal seed beads to bring everything together.
The Beadwork:
Amy is a big fan of classic daisy chain necklaces, so I started with a double chain with my chosen seed beads. I wanted to add something really special, so I made a pink and yellow beaded flower with a fiber optic center, and used it to create a bail for the vulva pendant. The necklace has a lot of personality - pretty and bold and spicy - just like Amy.
Happy birthday, Honey!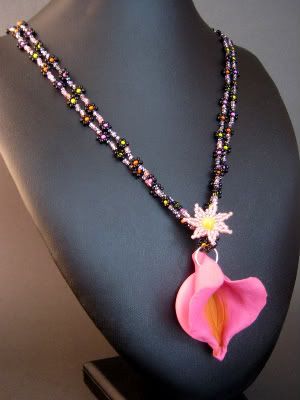 Copyright 2009 Inspirational Beading