This week I was very excited to learn that one of my latest creations, a poinsettia bracelet, was featured on the
FoundHandmade.com blog
. As many Etsy sellers know, being found and featured is a rare treat, and it inspired me to do some finding of my own.
Getting a treasury spot to showcase one's Etsy favorites isn't an easy thing to do. With only a few hundred spots open, and thousands of users, it can be a time consuming affair. Luckily, Etsy has provided us with the Poster Sketch tool, which allows you to create an Etsy treasury template to save until a spot opens up.
Rather than wait for a treasury, I'll post my recent finds here for you to enjoy. Each of these items fits in with this month's
Inspiration Theme
. Can you guess what it is?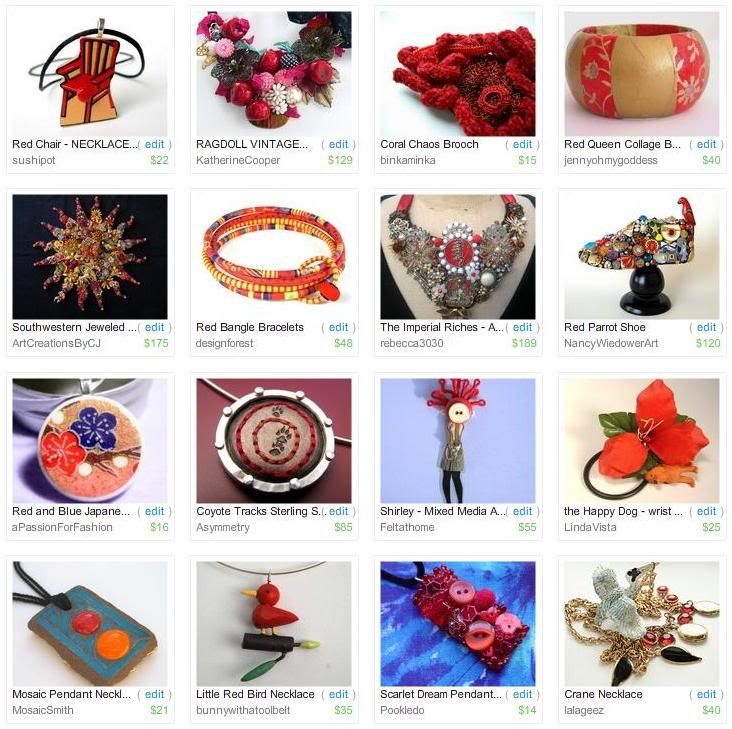 Row 1:
Red Chair Necklace - from
sushipot
Ragdoll Vintage Textile Necklace - by
KatherineCooper
Coral Chaos Brooch - by
binkaminka
Red Queen Bangle - by
jennyohmygoddess
Row 2:
Big Red Sun - from
ArtCreationsByCJ
Red Bangle Bracelets - by
Designforest
Imperial Riches - by
Rebecca3030
Red Parrot Shoe - by
NancyWeidowerArt
Row 3:
Japanese Cherry Flower Pendant - from
aPassionforFashion
Coyote Tracks Necklace - by
asymmetry
Shirley Necklace - by
Feltathome
Happy Dog Wrist Corsage - by
LindaVista
Row 4:
Plain or Peanut Necklace - from
MosaicSmith
Little Red Bird Necklace - by
bunnywithatoolbelt
Scarlet Dream Pendant - by
Pookledo
Crane Necklace - by
lalageez
Copyright 2009
Inspirational Beading
and Etsy.com