Now that winter is truly upon us, spring seems an awfully long way away. Fortunately, art and crafts give us the ability to fill our homes and lives with the most colorful blooms, even if they don't come with bees. When it comes to beading, we have almost as many color options as a painter. By mixing the thousands of types of beads with threads and accents, we can create nearly any color that nature can come up with - and these vibrant beauties are what get us through the cold, gray months.
The beadwork of
Spring Colors
, created by Hadass, is a great example of what color can do for one's mood. These intricate and bright pieces can inspire warmth with their colors, and liveliness with their shapes.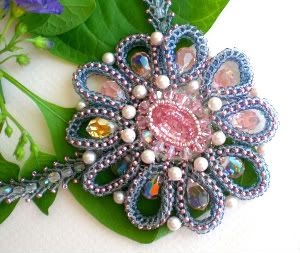 Inspirational Beading:
Do you remember your first beading project?
Hadass:
About 5 years ago, a friend taught me how to crocheted jewelry. I bought some wire and some simple beads and made a crocheted bracelet. It came out quite nice, so I tried something more ambitious – a crocheted necklace.
After I accomplished the crocheted necklace, I became more interested in beading and all of it's options. Through the internet I've learned about the different beading techniques, and started to try all kinds of techniques. I bought Carol Wilcox Wells' book
The Art & Elegance of Beadweaving
, which showed me how beadweaving could be artistic, elegant and versatile. And this is the kind of art that I aspire to do.
Inspirational Beading:
What is your ultimate source for inspiration?
Hadass:
I'm most inspired by nature. I love the colors of nature and I love to imitate the brightness and life of nature in my works. I wish that my jewelry will express the joy, optimism and beauty of spring and the deep colors of Fall.
Inspirational Beading:
What is your favorite color to work with?
Hadass:
My favorite colors are everything pink. In the Spring I love to combine pink with green and whites to get a look of a blooming garden. In Autumn I like darker tones like mauve and purple and love to combine them with natural stones and pearls.
Inspirational Beading:
Do you have a favorite beadweaving technique?

Hadass:
I like working with right angle weave, because I love it's soft drape and lacy textures. Recently, I've rediscovered netting, after avoiding it for some years. I'm learning it's many possibilities and trying to find new ways to incorporate them in an item, like a necklace inspired by the TV series
The Tudors
, in which the netting is a part of a rivoli bezel that looks like an Elizabethan color.
Inspirational Beading:
Who do you hope to inspire with your work?
Hadass:
I hope I inspire women who love one of a kind jewelry, that love the romantic and elegant look of my jewelry, and aspire to have jewelry that is more then the last call of fashion. I also hope to inspire women who would like to carry with them a little bit of spring.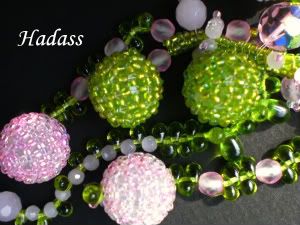 Hadass creates her colorful beaded art from her home in Jerusalem, with the help of her five cats, who are always trying to get into the bead tray. She enjoys beading while catching up on her favorite television shows. Hadass has always been creative, and says that her favorite item is always the last one she created - a great philosophy to have!
You can see full galleries of her work on
Flickr
and on
Facebook
. Hadass is also a member of the
Etsy BeadWeaver's Team
.
Copyright 2009
Inspirational Beading
and
Spring Colors