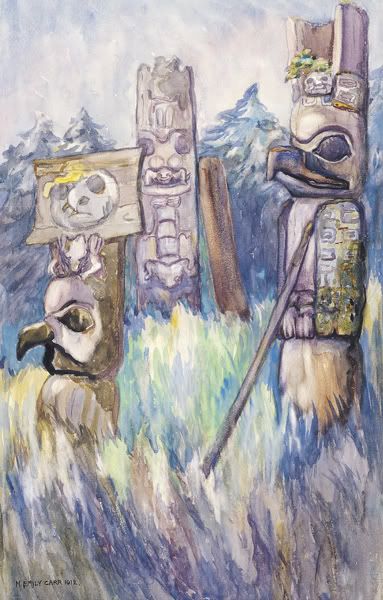 Canadian icon, Emily Carr, was born to English parents in Victoria, BC. It was 1871, and British Columbia had just become a province of Canada. It was still largely isolated from the rest of the country and colonies, and unspoiled beauty was everywhere. More than 40 years later,
Emily Carr
would take it upon herself to paint the abandoned native villages around British Columbia, creating a visual record of the cultures that were being swept away by encroaching development.
Most of
Emily Carr's paintings
depict distinct west coast images, including native artwork and artifacts, as well as breathtaking scenes of nature. These pictures are still some of the most recognized works of Canadian art, and are greatly valued as markers of our history. Emily is also considered a feminist role model, because of her strong determination to perfect her craft in a world that saw little use for a woman painter.
The Inspiration:
I recently purchased a handful of pretty ceramic focal beads from AuntiesBeads.com. The snowy white finish and leaf design struck me as feeling very Canadian. The leaf design painted on each bead has qualities of both pine and maple, and I was instantly inspired to use them in a distinctly west coast project.
I had first thought of making a First Nations style piece, with plenty of natural color and opaque beads. As I was musing on what to create, I started thinking about the paintings of Emily Carr. I had visions of evergreen trees, rocky beaches, and totem poles.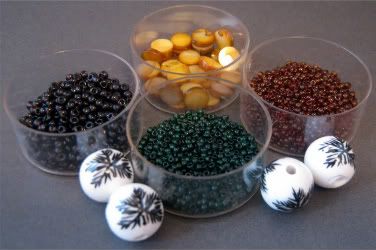 The Beads:
Before I could begin the task of capturing Emily Carr's art in beadwork, I needed a sensational focal bead. With the help of the Etsy Alchemy system, I was able to obtain a gorgeous eagle totem face, carved in wood by Dave Buckles of
The Casual Carver
.
To complement this treasure, I selected some deep jade green and root beer brown seed beads. I also grabbed some top drilled shell coins in a wonderful warm gold. The shells would add an ocean element to take the overall design from "just any old trees" to a distinctly BC coast tribute. They had me thinking of the
Fraser river
of long ago - teeming with salmon and untouched by pollution.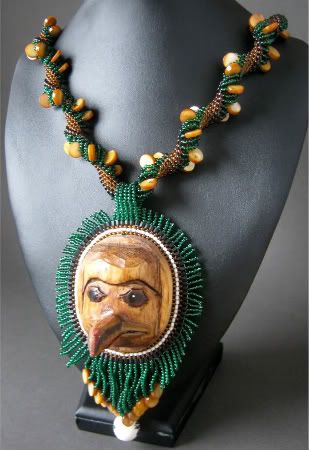 The Beadwork:
It didn't take long to choose a technique for the base of the necklace. I wanted to make good use of the shell coins with their asymmetrical holes, and decided on Dutch spiral, which would allow the shells to dangle and dance without looking out of place. I haven't used Dutch spiral in ages, so I was very excited to see how it would turn out. I finished the ends of the rope with basic tubular peyote stitch, and capped them with some of the ceramic leaf beads.
The totem bead is embellished with circular brick stitch, with opaque white seed beads and black hex cuts to tie all of the colors together. I added straight fringe around the edges, with looped dangles and accent beads along the bottom. The pendant is suspended from the necklace with simple seed bead loops that blend in with the existing fringe.
This is another one of those projects that turned out almost exactly as envisioned. In particular, I think that the mixtures of themes - nature and history, forest and ocean - blend together just right.
Copyright 2010
Inspirational Beading