Earlier this month I was treated to the Sunshine Award for inspiring bloggers, courtesy of Carolyn Good of
2 Good Claymates
. It's always exciting to receive an award from another blogger, and not only because of the compliment behind it. Following the trail of links left by each award is a great way to find new and interesting blogs to read and enjoy.
The rules for accepting the Sunshine Award are:
- Put the logo on your blog or within your post.
- Pass the award onto 12 bloggers.
- Link the nominees within your post.
- Let the nominees know they have received this award by commenting on their blog.
- Share the love and link to the person from whom you received this award.
I also love blog awards because it gives me a chance to have a good look at my reading list, visit my favorite blogs, and trim those that seem to be forgotten. These are some of the blogs that really stand out in the crowd: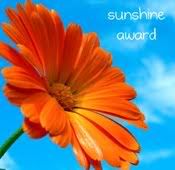 A Little Precious
Jan Roger's Blog for Mixed Media Art
Additions Style
Krafty Max Originals
Angelque Creations
Artful Living on the Bluff
Triz's Beading Mania
Beadlust
Beadwright
Christine's Beadworks
Foxan's Beading Blog
Jesse Kate Designs
In honor of the Sunshine Award, this week's Poster Sketch features 16 items from some of my favorite Etsy bloggers. This collection includes a few goodies that handmade sellers of all kinds would love.
Row 1:
Purple Pansy Buttons - by
2GoodClayMates
Zaggle Doll Beaded Rope Necklace - by
daxdesigns
Art Deco Burgundy Candle Holder - by
arosebyname
Green Arrowhead Pendant Necklace - by
ambrosianbeads
Row 2:
Man in the Moon Pendant or Pin - by
beadbabe
Lilly Pads Dichroic Glass Cabochon - by
beadsforever
Wood Gift Tag Set - from
cabin + cub
Orchid Brooch - by
SFBeads
Row 3:
Blue Button Necklace - by
beadsandbobs
Flamenco Flowers Choker - by
Kerrie Slade
Gold Dip Star Dish - by
Amy Esther
That Old Black Magic Necklace - by
HauteIceBeadwork
Row 4:
Polka Dot Party Choker and Earrings - by
Margot Potter
Copper Rose Necklace - by
Kate Tracton
Spirit Doll - by
The Bead Doodler
Life Collection Droplet Earrings - by
The Beading Gem
Copyright 2010
Inspirational Beading
and Etsy.com