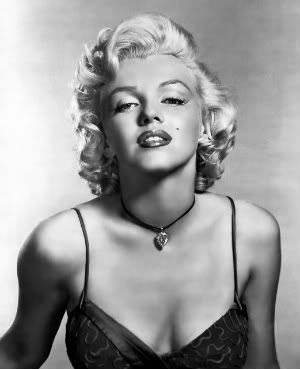 In 1999,
People Magazine
declared Marilyn Monroe the "Sexiest Woman of the Century". Although she appeared in
30 films
, and had her own production company, her legacy is of the being the pin up girl that drove men crazy. Marilyn Monroe won several acting awards during her career, and would later be named the 4th greatest movie star of all time by
Entertainment Weekly
; yet decades later, it is her face and her shape the people remember most.
The stress of living life in the spotlight has often been blamed for the star's untimely death - preserving her perfection in history. Like all stars who leave us too soon, we will never know what heights she could have reached.
Marilyn Monroe
once said "That's the trouble, a sex symbol becomes a thing. But if I'm going to be a symbol of something, I'd rather have it sex than some other things we've got symbols of." She is known for being a sensational beauty, and has inspired countless works of art, performance, fashion, and jewelry.
The Inspiration:
While I was working on a
checkerboard pendant
in black and white, I became really drawn to the classic colors. With silver lined crystal seed beads thrown in, the palette has the look of pearls, velvet and diamonds. The combination is reminiscent of 1950's fashions - the classic, chic style of icons like Marilyn Monroe. I was instantly inspired to create something that would be worthy of someone from history's red carpet.
The Beads:
I started with a few Swarovski crystals in silver shade and white opal. These would be my diamonds. I also picked up some glass pearls, and a mystic black pear shaped pearl drop. To fill in the spaces between these beauties, I grabbed some 8/0 Tohos in Ceylon pearl and metallic hematite.
The Beadwork:
I wanted a slinky necklace, and something that could easily be split into two colors so that the black and white could remain separate. I decided to go with St. Petersburg chain, which would put the crystals to good use, and provide a nice V-shaped necklace.
I used the black and white 8/0's on either side of a double St. Petersburg chain, with the crystals sparkling in the center. I'm really pleased with the way the black pear shaped pearl stands out at the point of the chains. I think the entire piece turned out exactly as I had hoped - simple and elegant.
Copyright 2010
Inspirational Beading