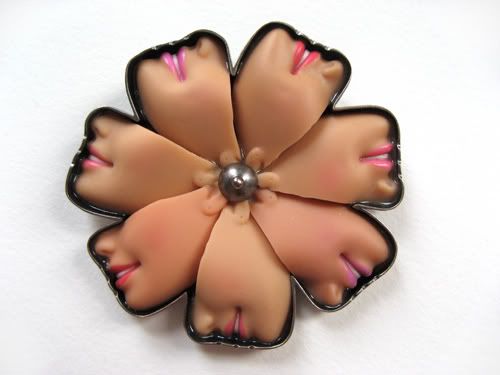 On March 9, 1959 a young woman called Barbie was born. Made of plastic and perkiness, the first adult doll for girls was soon to be one of the most popular toys of all time. Over the years
Barbie
has gone through a great many transformations, from her looks, to her career and even her social circle. Sometimes Barbie would go with the flow and embrace new ideas, and sometimes it was her actions that would help to influence the world's thinking.
Like any major phenomenon that spans the decades, Barbie has a staying power that can last far beyond childhood. Although the target market for the doll is young girls, men and women of all ages spend time collecting all of her various incarnations, accessories and sidekicks. Barbie is a major player in Western culture, and can be found many different art forms - some in tribute, and others not so friendly. There was the controversial
Food Chain Barbie
, by artist
Tom Forsythe
, and the unexpected
Distorted Barbie
. The famous portrait of Barbie by Andy Warhol is currently on display at the real-life
Malibu Dream House
.
Even jewelry artists can't help being drawn to this icon of fun and fashion. In her
Plastic Body Series
,
Margaux Lange
captures the essence of the infamous Barbie Doll. Like many art forms, each piece can be interpreted according to your own ideas and feelings. Love her or hate her, Barbie makes an awesome pendant!
Inspirational Beading:
When did you first discover jewelry design?
Margaux Lange:
My first introduction to metalsmithing was in high school in Lake George, NY - a public school very fortunate to offer jewelry classes to its' students. However I didn't know I wanted to become a professional jeweler until college (BFA: The Maryland Institute College of Art, Baltimore, MD 2001.) I was a General Fine Arts major and bounced around in various mediums until I decided to concentrate on metals my junior year. For me jewelry was a way of getting Art off of the wall and on to the body so it could be more intimately shared, experienced and literally felt.
Inspirational Beading:
How did you decide to use Barbie for a muse?
Margaux:
I used to be obsessed with Barbie dolls as a kid. I would spend hours crafting precious details for their miniature worlds. Playing with Barbie dolls helped to develop my dexterity from a young age and strengthened my attention to detail; skills imperative to the craft of jewelry making.
Barbie made her debut in my artwork in high school and then again in various incarnations throughout college (drawings, sculptures, etc) I became interested in incorporating found objects into my jewelry work and because I had done other artworks with Barbie in the past, it felt natural to try her out in the jewelry realm. It was an unusual idea with a strong personal connection for me, so it felt right. The
Plastic Body Series
continued to grow from there.
Inspirational Beading:
What is your favorite source for inspiration?
Margaux:
I know it sounds cliché, but everything inspires me! I am most often inspired by pattern & repetition, colors, textures, pop culture, feminism, nature, art, music, human behavior, facial expressions, humor, etc. Of course I am also continually inspired by other artists as well.
Inspirational Beading:
If you could master any new material, what would it be?
Margaux:
In addition to broadening my current skills, there's a ton of things I would still love to learn how to work with. Here's the short list: fine gold-smithing, woodworking, large scale welding, resins/plastics, glass cutting… the list goes on and on.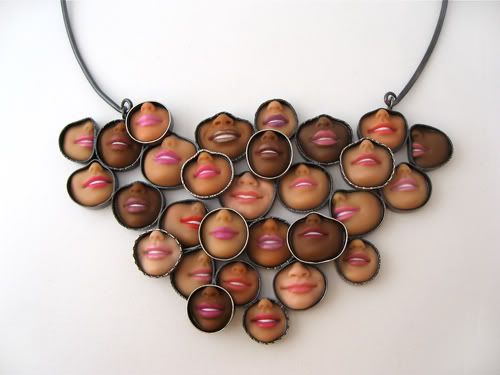 Inspirational Beading:
Who do you hope to inspire with your work?
Margaux
: My hope is that people will recognize the humor in my work. There are various levels one can read into any given piece in my
Plastic Body Series
and that's part of the fun. Good art is meant to engage, but who ever said good art can't also be humorous or irreverent? I hope to inspire individuals to consider thought-provoking wearable art jewelry and perhaps even inspire them to be bold and brazen enough to wear such conversational accessories.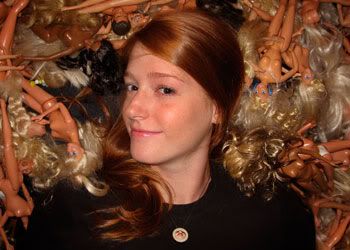 Margaux Lange's
Plastic Body Series
art jewelry collection utilizes salvaged Barbie doll parts in combination with sterling silver and pigmented resins. The series is a result of Lange's desire to re-purpose mass produced materials into handmade, wearable art meant to examine and celebrate her own, as well as pop culture's, relationship with the icon known simply as: Barbie.
Margaux has been creating work in this series and exhibiting extensively for nearly 10 years. Her jewelry has been published in numerous books and has garnered international press coverage in the world's top Art, fashion and design magazines. She is represented by Art Jewelry galleries and boutiques across the US and abroad. The
Plastic Body Series
is sought after by Art Jewelry collectors, Barbie nostalgics, and bold individuals alike.
You can see even more of her unique designs in her
Etsy shop
, and on her website,
Margaux Lange Unique Handcrafted Jewelry
. To catch up on her latest creations and inspirations, you can also follow Margaux Lange Jewelry on
Facebook
and on
Twitter
.
Copyright 2010
Inspirational Beading
and
Margaux Lange