Happy New Year! Isn't it interesting how the hope of a bright future seems just a little more possible at the dawn of a new year? And with a new decade also just beginning, the possibilities for change and success are even greater.
To celebrate the first day of 2010, I have put together a colorful collection of items from one of my favorite groups of beaders - the
Etsy BeadWeavers Team
. When I joined this amazing group of talented artists, I was looking forward to participating in challenges. I have discovered that belonging to a great Etsy Team can also bring encouragement, inspiration, and so much more.
You can see even more of these incredible beaded works on Etsy.com by searching for "EBW Team".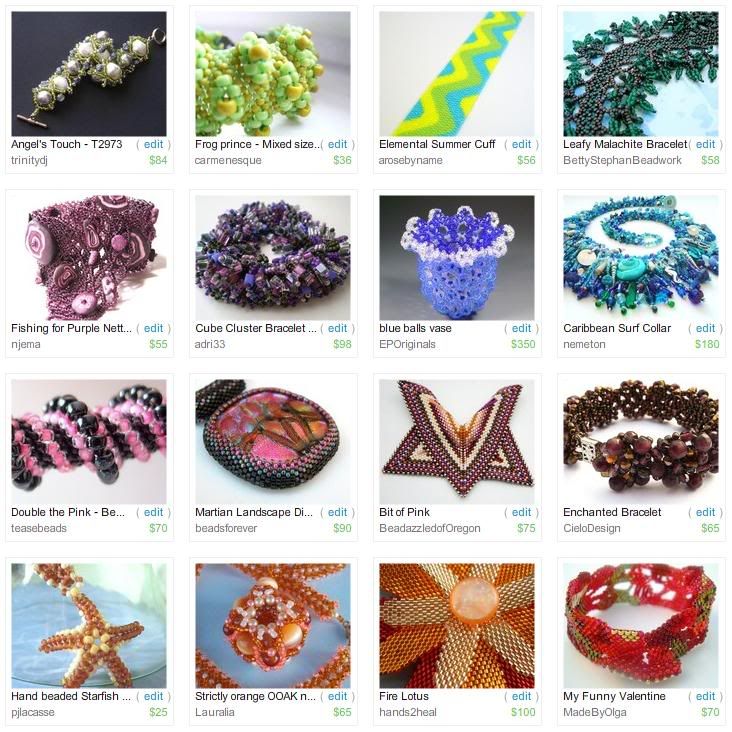 Row 1:
Angel's Touch Bracelet - by
trinitydj
Frog Prince Bracelet - by
carmenesque
Elemental Summer Cuff - by
arosebyname
Leafy Malachite Bracelet - from
BettyStephanBeadwork
Row 2:
Fishing for Purple Netted Cuff - by
njema
Cube Cluster Bracelet in Lavender - by
adri33
Blue Balls Vase - by
EPOriginals
Caribbean Surf Collar - by
nemeton
Row 3:
Double the Pink Necklace - by
teasebeads
Martian Landscape Necklace - by
BeadsForever
Bit of Pink Chevron Pendant - by
BeadazzledofOregon
Enchanted Bracelet - by
CieloDesign
Row 4:
Hand Beaded Starfish Pendant - by
pjlacasse
Strictly Orange Necklace - by
Lauralia
Fire Lotus Beaded Flower - by
hands2heal
My Funny Valentine Bracelet - from
MadeByOlga
Copyright 2010
Inspirational Beading
and Etsy.com