With fall quickly approaching, August is a time for getting in a few final tastes of summer. We're all taking last minute camping trips, and dashing to the beach, hoping to make the most of the season while it lasts. Even though the weather is still warm, little signs are warning us of cooler times ahead. Even some of the leaves are turning early, as if to say "Store some food or you'll be next".
For this month's color palette, I wanted to focus on something colorful, tropical and warm. Something that would help carry summer heat and light on into the darker autumn months.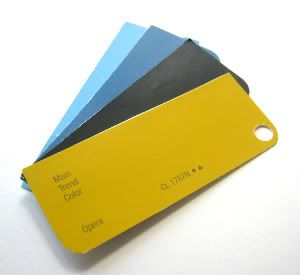 The blue tang is a boldly colored reef fish from the Indo-Pacific, also called the palette tang. It has long been a popular aquarium species, but especially since the appearance of Dory in
Pixar
's
Finding Nemo
. I thought that a stunning tropical fish would make for some wonderful summer palettes, and the
blue tang
does deliver.
The first palette I created was quite literal. The deep yellow and blue of the fish easily translate into beads. To create
Splish Splash
, I used Miyuki seed beads in transparent cobalt and opaque yellow. For black I added a pair of CRYSTALLIZED™ - Swarovski pear-shaped pearls. Although the colors are borrowed directly from the image of the blue tang, they remind me more of scuba gear than a fish.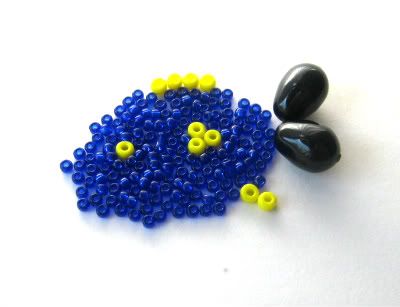 To create this
Sea Monster
palette, I had to turn down the brightness a bit, and started with some smoky blue shell coins. With their obvious aquatic nature, it's still easy to see the summer theme. I matched them up with yellow cat eyes, like little orbs of sunlight, and shiny hematite black 8/o seed beads.
The final palette was an odd one. I started with some transparent yellow seed beads, and opaque blue Czech fire polish rounds. After adding shiny black bugle beads, I thought that the group would make a wonderful sea anemone. But the beads began speaking for themselves as I drew the palette, and ended up with some kind of psychedelic palm tree.
I had trouble finding a name for this palette. The best I could come up with was
20,000 Leaves
. What would you call it?
Copyright 2010
Inspirational Beading