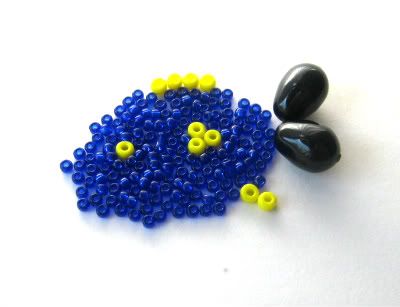 Sometimes when we see a certain style of bead, we instantly see the perfect project to use it in. Something about the color, shape and texture calls out, providing inspiration before the beads are even out of their package.
That is the way I see
cobalt blue
beads. Unlike most blues, which are cool shades, cobalt has a mysterious warmth to it. Even turquoise, which can be used to represent a tropical ocean, can't compete with the heat of cobalt blue. I like to combine them with bright, electric colors, like toxic chartreuse green or sunny opaque yellow.
In my large collection of vintage beads, I have a stash of round cobalt blue lucite that I've been hoarding for years. Even when I still used plastics, I could never bring myself to work with these beads, because they were just too beautiful to part with. The 10mm rounds are perfectly clear, and when they catch the light just right, they seem to amplify it, like a fiber optic cable.
It seems like such a waste to let these beads hide away in my stash, never to be seen in a piece of jewelry. So I've decided it's time to pass them on to another beader who can appreciate their beauty. Will it be you?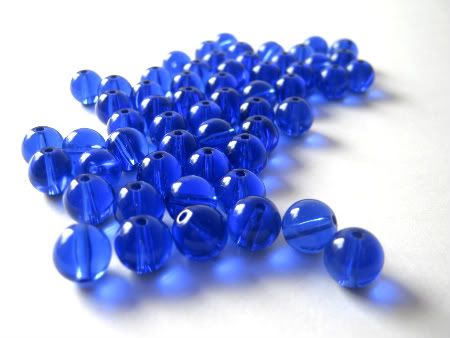 How to Enter the Cobalt Blue Giveaway
For a chance to win my collection of vintage cobalt blue beads, just answer the following question:
If you could capture and recreate any memory with beads, what would it be?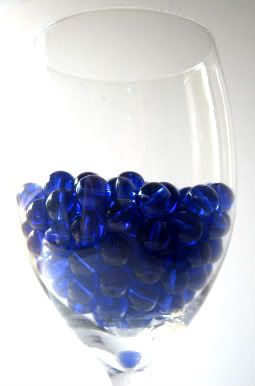 Leave a comment on this post with your answer, and you'll be entered in the draw! There are 161 beads in the set - about ½ a cup of gorgeous cobalt blue rounds. The draw is open to residents of Canada and the US.
Receive a second entry by Tweeting this post. Leave a link to your Twitter account, or your Tweet, along with your comment.
You can also receive an extra entry by mentioning this giveaway in a blog post, and link back to Inspirational Beading. Leave a link to your post with you comment!
The winner will be randomly drawn on Monday, August 23rd.
If you do not have a public Blogger profile with email contact enabled, you must include your email address with your comment. You can type it spam free like this: beadlover AT yourmail.com.
Good luck, and happy beading!
Copyright 2010
Inspirational Beading